Golf is a sport that requires focus, precision, and endurance. But let's face it, traversing the vast expanse of a golf course can be quite exhausting, especially when you're walking from hole to hole. That's where e-bikes come in. In recent years, e-bikes have completely transformed the way golfers experience the game, offering a fun, convenient, and enjoyable means of transportation. E-bikes offer a fun and convenient way to get around the golf course without getting tired or sore.
In this blog post, we're going to dive into the incredible benefits of using e-bikes on golf courses and give you all the details about selecting the perfect e-bike with all other relevant information. So, get ready to enhance your golfing experience with the incredible world of e-bikes.
Selecting the Perfect E-Bike for Golf
When choosing the electric bike for your golfing adventures, there are a few things to keep in mind. So, to have the best experience possible, consider the following factors when selecting an e-bike:
Wheel Size
The wheel size of your e-bike will affect how easy it is to ride over rough terrain. If you play on a course that has a lot of hills or rough terrain, you'll want to choose an electric bicycle with larger wheels. Bigger wheels mean better stability and maneuverability, especially on different terrains. Therefore, opt for fat tires with larger wheels to get better traction and stability on those lush, grassy surfaces.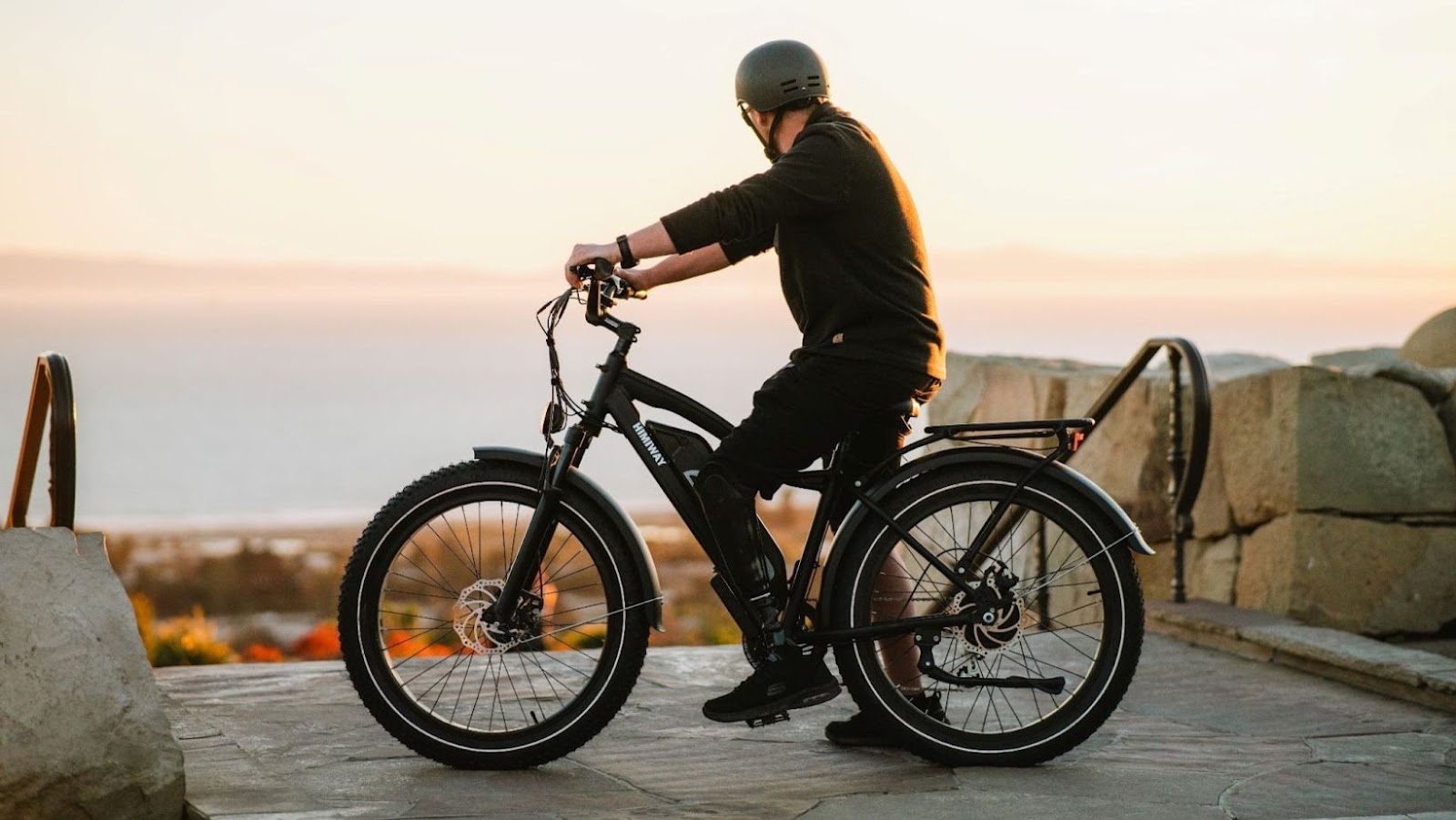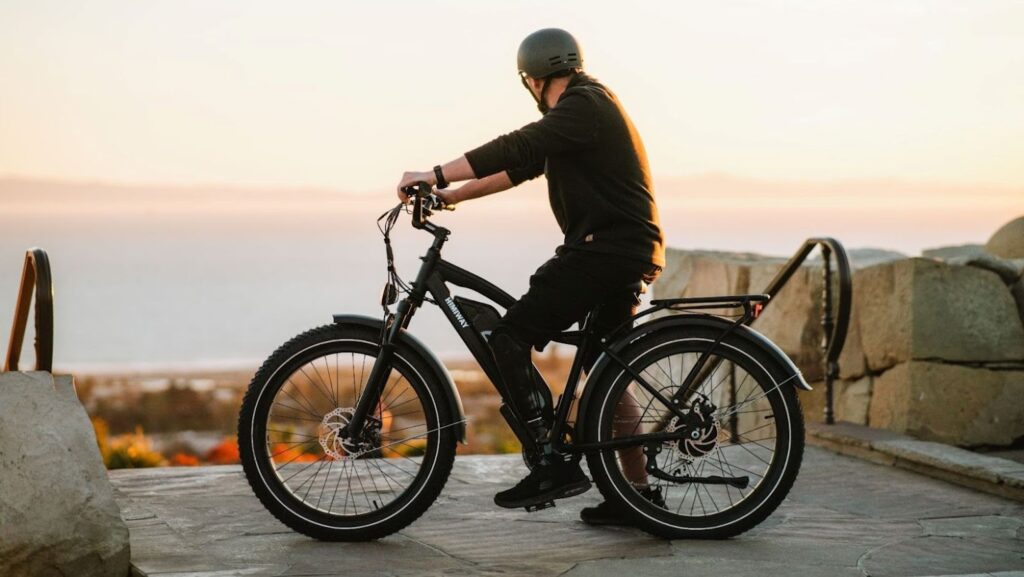 The Himiway cargo bike can be the perfect example of this, which is designed with a wheelbase of 46.4", wheel diameter of 23.2", and 20″X4″ Kenda Fat tires. This e-bike also has a rear rack; this means you can easily carry anything you need
Motor Power
The motor power of an e-bike determines how much assistance it provides. If you're looking for a lot of assistance, you can go for an e-bike with a powerful motor. This means you should look for e-bikes with sufficient motor power and torque that can help you conquer those uphill battles and navigate challenging landscapes without breaking a sweat.
Battery Life And Range
You definitely don't want your e-bike battery to run out halfway through the course. If you're planning on playing a long round of golf, you'll want to choose an e-bike with long battery life. So, ensure that the e-bike's battery has a long lifespan and offers enough range to cover the entire course without needing frequent recharging pit stops.
Suspension And Seating Options
Let's keep those bumps and jolts to a minimum. And to ensure this, seek e-bikes with comfortable seating and suspension systems to absorb shocks and provide a smooth and cushioned ride throughout your golfing course.
Safely Transporting E-Bikes to and from Golf Courses
When transporting an e-bike to and from a golf course, there are a few things you'll need to do to ensure safety and protect your investment.
Choose The Right Bike Rack For Your Vehicle: Select a bike rack specifically designed to accommodate e-bikes, ensuring stability and proper support.
Transport Your E-Bike Safely: If you're transporting your e-bike in a car, make sure to secure it properly. You can use a bike rack or a cargo carrier. If you're transporting your e-bike on a bike trailer, make sure the trailer is properly attached to your bike. Additionally, you can utilize sturdy straps and padding to securely fasten the e-bike to the rack, preventing any movement or potential damage.
Compliance With Local Traffic And Transportation Regulations: Familiarize yourself with the transportation regulations in your area, such as speed limits and bike transportation guidelines, to ensure safe and legal transportation.
Lock Your E-Bike: Always lock your e-bike when you're not using it. This will help prevent theft.
Essential E-biking Gear for Golfers
To fully enjoy your e-biking experience on the golf course and make the most of it, you'll need the right gear. These include-
Protective Gear: Invest in a well-fitting helmet to protect your head in case of accidents or falls. Additionally, you should buy gloves to provide a better grip and cushioning while riding.
Golf-Specific Accessories: Look for golf bags and attachments that are designed to be compatible with e-bikes. These handy accessories ensure your clubs and equipment stay secure and easily accessible throughout your ride. So, no more struggling with lugging your golf gear around.
Storage Solutions for Personal Belongings: Don't forget about your personal items. Consider keeping storage options, such as saddlebags or handlebar bags, to securely store your personal items, such as wallets, keys, sunglasses, sunscreen, water bottles, snacks, umbrellas, and all other essentials that you may require on your golf course.
Must-Have Accessories: To further enhance your e-biking experience on the golf course, you can attach a phone mount to your e-bike to conveniently access navigation apps and keep track of your scores.
Etiquette and Tips for E-Biking on Golf Courses
Just like with any sport, there are rules to be followed on the golf course also. So, when using e-bikes on golf courses, you must follow proper etiquette and guidelines. Here are a few tips for using e-bikes on golf courses:
Adhere to golf course rules and regulations regarding e-bike usage.
Respect golfers on foot and traditional golf cart users by maintaining a safe distance and avoiding disruptions to their game.
Maintain a moderate speed to prevent unnecessary wear and tear on the course and minimize damage to the turf.
Follow any designated routes or restrictions to ensure a smooth and harmonious experience for everyone.
Park your e-bike in designated areas.
Customization Options for Golfing E-Bikes
Who doesn't want to give a personal touch to their own e-bike? Personalizing your e-bike for golfing can enhance both functionality and convenience. So, if you want to make your e-bike truly yours, consider the following customization options:
Add Golf Bags And Club Carriers
Look for e-bikes that offer attachments or racks specifically designed to securely hold golf bags and hold extra golf balls, towels, or water bottles.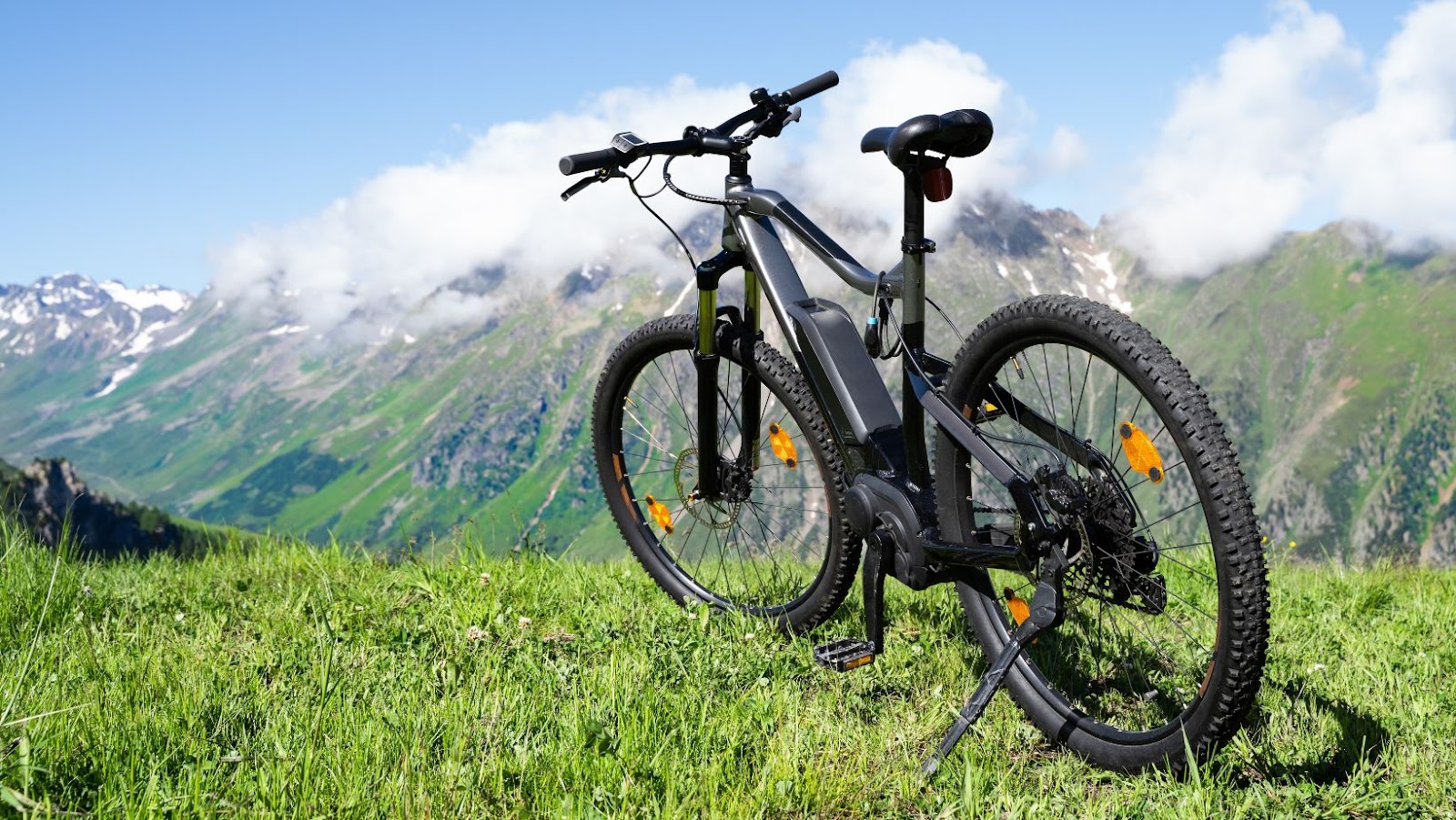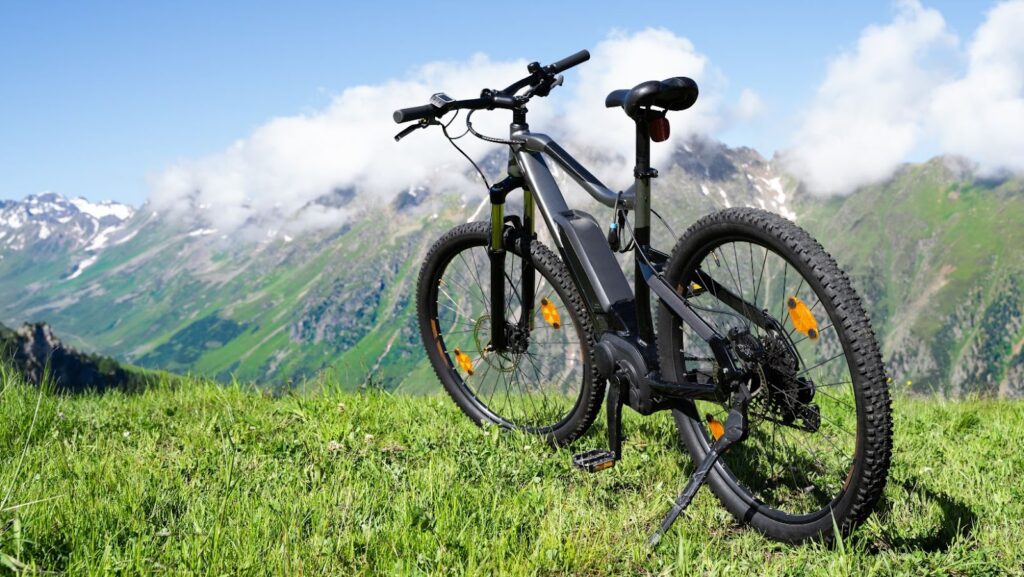 For example, the Himiway Zebra electric fat tire bike; offers free accessories, including a Rear Rack. These attachments ensure keeping everything you need within reach and your clubs organized and secure during your ride.
GPS Mounts
Is there a possibility of getting lost on the course? Not anymore. By installing a GPS mount on your e-bike, you can easily navigate the course, ensuring you stay on track and find your way to each hole effortlessly. With a GPS mount, no more wandering aimlessly; now you can just smooth sailing from hole to hole.
Comfort Modifications
To enjoy every moment of your golfing journey and make it more comfortable during long rides, you can consider adding a cushioned seat or ergonomic handlebars. These modifications can reduce fatigue and enable you to enjoy your golfing experience to the fullest. Additionally, you can upgrade the tires to a more durable and flexible tread and add a headlight and taillight for more convenience.
Top Golf Courses in the World that Allow E-Bikes
Can you imagine combining the beauty of some famous golf courses with the convenience of an e-bike? Well, you can. Many renowned golf courses around the world have embraced the e-bike trend and now allow golfers to use e-bikes on their premises. Some of these notable courses include:
Pebble Beach Golf Links (California, USA)
St. Andrews Links (Scotland)
Mission Hills Golf Club (China)
Augusta National Golf Club (Washington Rd, USA)
Whistling Straits Golf Course (Lakeshore Rd, USA)
Royal Melbourne Golf Club (Australia)
Conclusion
The world of e-bikes has opened up exciting possibilities for enhancing your golfing experience. With their convenience, maneuverability, and customization options, e-bikes are the perfect companion on the golf course.
So, why not take your golf game to new heights? Embrace the advantages of e-bikes and elevate your game with an e-bike that suits your needs, equip yourself with the essential gear and accessories, and embrace the etiquette and guidelines of e-biking on the golf course.
So, what are you waiting for? Get out there and grab your clubs, hop on your e-bike, and utilize this fantastic opportunity to combine your love for golf with the convenience and joy of e-biking like never before.