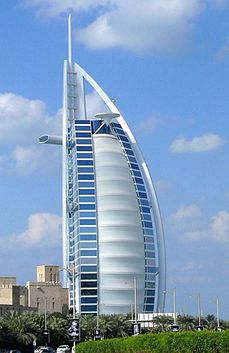 Dubai, a unique city that dwells in luxury like no other place on earth is again bringing a hip trend in both travel and fashion. If the stunning buildings, latest cars and lavishing shopping were not enough to help you choose a Dubai trip, what about getting a 24-carat gold temporary tattoo? Yes, it is real gold, it's temporary and it's the new badge trendy, fashion-conscious people are going to show off.
The temporary real gold tattoos are the latest product of a new Dubai business, Precious Skin. According to their representatives, the gold tattoos will the perfect body adornment for wedding and other special occasions, plus your average star-filled parties. Getting a gold tattoo is not cheap, but the prices start at 50USD per tattoo. Of course, depending on the complexity and skin covered by a certain design, the prices can go much higher.
Precious Skin currently has two outlets in Dubai, of which one is strategically placed within the Burj Al Arab hotel, one Dubai's most recognizable symbols and one of the very vivid definitions of luxury and indulgence. The tattoos are made of 99.9 percent gold or platinum, the pricey glitz you need to rock an event.
"It's a revolution in the body art business, it's the first time we can use 24 carat gold and platinum on skin," said Arnaud Flambeau, managing director of Flambeau Luxury Trading and Precious Skin.
Japanese by concept, Flambeau brought the idea and technique of gold and plantinum temporary tattoos to the Gulf, where he was convinced they will become a big fashion item, as many women in the region have temporary henna tattoos designed for weddings and other special occasions. Why not add a bit of gradeur to the personal style of women whose lifestyle already includes tattoos?
"We have had a lot of interest so far because it's a new idea and a new product that's between jewelry, makeup and accessories and it's a lot easier to make the decision to get a gold tattoo than buy new jewelry," said Flambeau.
To create the tattoo, a thin film of gold and platinum is applied to the skin and can last for up to a week.
"More elaborate and larger designs can cost up to $5,500, and the idea really is just to have something that is very unique and new," Flambeau said.
Precious Skin has big plans to develop an entire gold and platinum temporary tattoo empire. They want to open another 23 branches in Dubai during the next year and starting January 2011 they will also open shop in Saudi Arabia, Qatar and Bahrain.
To better understand the concept, here's a video I managed to find on Dailymotion showing the gold tattoos on real skin. They do look amazing!