Mo'zippity's freshly launched mobile app Connect On Time helps travelers catch their connecting flight by supplying them with crucial information on where the boarding gets are and how much time they need to make it there. With this new iPhone app, mobile application developer Mo'zippity aims to solve the problem of the over 25 million passengers that miss their flights each year, each spending an average amount of four hundred dollars for new tickets and adding eight hours of travel time.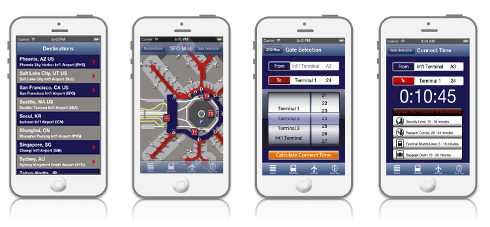 Connect On Time taps into a database of over a million gate-to-gate time measurements, customized airport maps, and special algorithm, to provide the needed information in as little as a few seconds. The app is helpful to those flying from 42 top airports from the Airport Council International's rankings, but subsequent versions of Connect On Time will feature the top 100 airports, add multiple language support, and expand from iOS phones to include support for Android mobile devices.
The app can be used to plan a trip, choose the best connecting flights, or locate your gate and make a run for it when you're not familiar with the airport. Other than gate location and time needed to make it there, other details – such as additional security checks – are also provided.
The app is available in a free version with three activated airports, does not need a wi-fi connection to work, and free of pop-up ads.  The other airports may be activated for $1.99 each. For more details, a list of the supported airports and to download the app, visit http://appstore.com/connectontime.