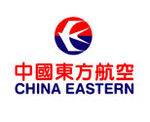 China Eastern Airlines has recently released its financial results for the first quarter of 2011, announcing a 32% profit increase, the consequence of a rebound in air travel in the first three months of the year. The Shanghai-based air carrier is one of the three major state-owned airlines in China.
China Easter Airlines' profit for Q1 was of 155 million US dollar, of a revenue of 2.8 billion US dollars, a 17% increase compared to the same period of 2010. These encouraging results come after severe losses for all Chinese airlines caused by the global economic downturn which led to a steep drop in air travel and additional costs caused by fluctuating fuel prices.
China Eastern Airlines is not the only Chinese company to report such results, the other two state-owned carriers also announcing strong growth in revenue for this first quarter. However, Air China and China Southern Airlines could not showcase similarly impressive profit increases, as Q1 of 2010 was particularly great for the two airlines, and this year's profit was actually lower.
[adsense]
Air China's profit dropped by 23% to 257 million US dollars, after an over 100% growth in the first quarter of 2010. Yet the airline's revenue was much higher than the year before – 3.3 billion US dollars compared to 14.7 billion in 2010.
China Southern Airlines' first quarter profit dropped by 13%, reaching 190 million US dollars, result triggered by an investment income fall of 96%.