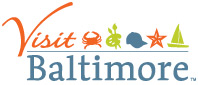 Baltimore's Tourism Bureau is quick at capitalizing on Maryland's recent approval of same-sex marriage and is welcoming LGBT community members who are planning their wedding with a freshly released microsite. The tourism bureau knows there are money to be made in LGBT travel and that being part of a reduced but growing number of states that allow gay marriage gives the city a temporary advantage in attracting this particular tourist segment.
Visit Baltimore, the Baltimore Tourism Bureau online outlet, has launched the new microsite offering information to same-sex couples planning a wedding only a few hours after the state of Maryland passed a referendum legalizing gay marriage by popular vote. The LGBT wedding site contains information on how to obtain a marriage license, which venues are available for the happy event and  where to find accommodation for couples and their guests.
[adsense]
"We encourage the LGBT community to visit Baltimore to celebrate their commitments to one another," says Tom Noonan, president and CEO of Visit Baltimore stated in a press release. "As a city, we have long been proud to support the rights and equality of our visitors, and the legalization of same-sex marriage is another important step forward."
Gay marriage has recently been approved in Maine and Maryland, following in the footsteps of another six states. A similar outcome is expected in the state of Washington, with votes still being counted at this point. In Maryland, gay couples will be granted the right to marry starting on January 1, 2013.