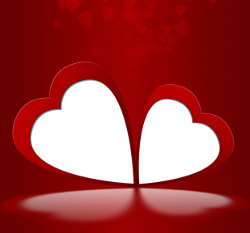 The best Valentine's Day gift for a traveler is, well, more travel, obviously! Don't worry, it's not too late to find something, there are romantic offers everywhere! Take your partner to San Francisco to choose between love and lust, buy V-day discounted tickets at the Pittsburgh Wine Festival, Aruba is celebrating this love themed day in the heart of New York City, San Antonio becomes the "City of Yellow Roses" and offers a myriad of special offers. These are just the latest offers I got in my RSS reader and there are a lot more where these came from!
But let's face it, we can't all buy a dream romantic holiday for our travel loving partner or, worse, we don't have the time to share the experience with them. So instead of focusing on a Valentine's Day themed gift, try focusing on your love for your partner and how it translates into their passion for travel. 
[adsense]
After a quick chat with the Travel Tweaks theme, here's a bunch of gifts we'd just love instead of heart-shaped anything, candy, jewelry and romantic dinners. Remember, we're all, women and men a like, quite geeky and take our tech toys with us everywhere!
Kindle – yes, we still read! We might have gone eBook because we love the environment and we love more room in our luggage (hence the tiny device that holds hundreds of books) and even Amazon says this is the best Valentine's Day gift! OK, they made it, but we agree – those of us who have one, loved it, the rest who don't, want one. It's perfect to pass the time during flights, in airports and wherever else you're stuck when traveling.
A portable luggage scale – yes, it's small, it's digital and it allows you to weigh your luggage before going to the airport. Most airlines have weight limits for what is brought on board and you need to know when to stop shopping while you travel. This is a both useful and thoughtful gift.
Packing cubes – traveling for longer stretches of times means you have to get great at packing smart. While we're not all particularly good at that bit (says the girl who always brings at least twice more stuff than what she'll end up using), this set of  packing accessories might help the less efficient travelers.
Power banks – Smartphones, cameras, tablets, they all run out of juice eventually and you need to power up to continue to use them. Electricity does not always go hand in hand with remote destinations, off-the-beaten path routes or someone's bright idea of forgetting to bring a power adapter. We talked about JuiceCane a while back and that makes for a great idea. But we'd also like to introduce the nice mobile power banks our friends at iX Peak are distributing. They look slick!
Speaking of power – Power adapters!!! This one you need to make sure you can plug in your device regardless of the country your in and the type of outlet you find while this one helps you charge almost any type of device, just in case you forget your power cord for the iPhone or the camera or whatever else you travel with.
A travel pillow with a twist – it's fun and seems to prevent those awkward moments when you wake up drooling on the shoulder of who ever is sitting next to you!
These may not be the usual, go-to, romantic tag gifts for Valentine's Day, but nothing says "I love you" like giving a gift people get to use and enjoy. On second thought, add some chocolate, there's always room for chocolate!