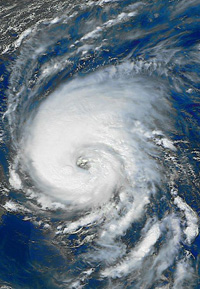 While Hurricane Irene moves away from the American East Coast, travel and traffic around the area is slowly going back to normal. Airlines and trains are the first to resume normal schedules and are slowly followed by beach resorts in the area, and plan to reopen for early autumn tourists.
Hurricane Irene caused about 10,000 flights to be canceled, of which close to 7,000 on Sunday alone. Another 650 have been canceled for Monday morning, but airlines are confident about keeping their schedule for late Monday. United and Continental have already announced they will resume their flights from New York City airports at noon on Monday and more will follow. Â According to statements from the Air Transport Association, it will take a few days for air traffic to get back to normal and for everyone to reach their destination.
At this point, passengers with flight tickets for Monday and the following days have priority over those whose flights have been canceled.
Amtrack has also canceled several trains due to Irene, most of them on Monday and headed from Florida to Virginia or from Georgia to New York. More trains might be canceled early on Monday due to flooding, but the train services might be resumed by the end of the day. The Greyhound bus line also hopes to resume operations on the Interstate-95 Northeast corridor by the end of the day.
As far as beach resorts are concerned, those hit by Irene on Saturday are partly open for business already, waiting for tourists to enjoy a late summer vacation. Some opened since Sunday and others are planning to reopen access after 10 am today. Find out more here.