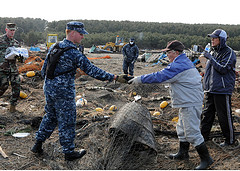 Although the situation in Japan has not worsen in the past 24 hours, the ongoing dire state of the Fukushima nuclear plant and the numerous earthquake aftershocks have lead to an upgrade of the warnings against traveling to Japan. After travel advisories were issued yesterday by Australia, the US and France, warning travelers to avoid Japan destinations unless critical, Australia has upgraded their initial warning and advised the country's citizens not to travel to the region under any circumstances.
Australian Department of Foreign Affairs explained their decision by the fact the Fukushima crisis is still far from being contained, while numerous aftershocks still shake Japan. Other reports regarding the current state of the country differ in gravity: while the UN nuclear watchdog stated the situation at Fukushima is serious but "reasonably stable" and nothing has changed in the past 24 hours, Graham Andrew, senior aide to International Atomic Energy Agency chief Yukiya Amano, warned during a a news conference that the situation could worsen in any moment.
In order to help Australian citizens comply with their warnings, emergency loans will be granted to all who want to leave the country but cannot afford it.
Hong Kong luxury hotels are also taking all the precautions to help avoid any critical consequences of the nuclear crisis in Japan. Thus, they have stopped using fish, seafood, beef and other foods from Japan, for fear that "a radiation plume released by Japan's deteriorating nuclear power plant may pose radioactive contamination risks to people and to food", announced USA Today quoting Bloomberg. Shangri-La, Mandarin Oriental and Four Seasons hotel chains have all stopped importing food from Japan.
The list of countries advising against traveling to Japan has also added India. The country's authorities warned Indian citizens to avoid all non-essential travel to Japan and urged those already in the country to move as soon as possible to safer locations.