I am a declared fan of Istanbul and all things Turkey and that includes the wonderfully delicious Turkish cuisine. Whenever I am in Turkey, I eat nothing but Turkish dishes and I am so addicted to them that I just have to go to Turkish restaurants in Romania every once in a while. Luckily, as there is a rather large Turkish community in my country, there are quite a few good restaurants to quench my cravings. As travel can be a bit costly, here is a reading recommendation for a wonderful article on how to save money for a holiday.
Here are the dishes  you just have to try in your lifetime, preferably in Turkey. No matter how good a Turkish restaurant, nothing compares to the atmosphere, the rhythm and the overall feel of the real deal!
Kebab Galore
Kebabs are the first thing you should try in Turkey. They are great, no matter the type, as they fit a nice meal at a restaurant or a quick bite while you travel from one sight to another. The type of kebab you choose is up to you, but I recommend trying each at least once and then deciding on your favorites.
[adsense]
Iskender Kebab
Iskender is my absolute favorite. Nice slices of meet (beef or lamb), red sauce and fresh yogurt, all served over pita bread. It's absolutely to die for!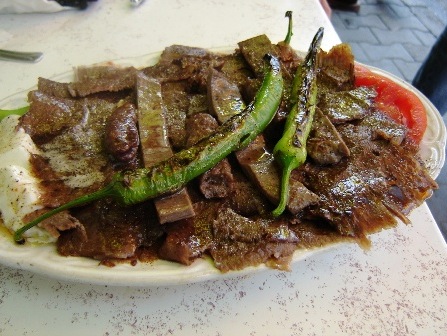 Doner Kebab
The "rotating kebab" or the Turkish version of shawarma, this is the preferred quick meal to get from street vendors or small restaurants and eat while you move around cities or resorts. There are a few versions of Doner, Iskender being considered one of them, but, judging from what I saw in Istanbul and the seaside resorts I've been to, you can easily considered different dishes.
Şiş kebab
The skewer cooked version of kebab, this is quite cool to eat as in many restaurants you can go and point out the skewer you want and they will cook it for you. Lamb, beef, chicken, whatever you prefer will be served to you. I usually go for the kuzu şiş – lamb şiş kebab
Adana kebab
If you like hot dishes, you will love this one! Minced meat cooked on a thick skewer, absolutely delicious! Anadan kebab is also known as Kıyma kebabı and has a mild version as well, just in case you want to try this charcoal grilled dish but don't enjoy spicy food.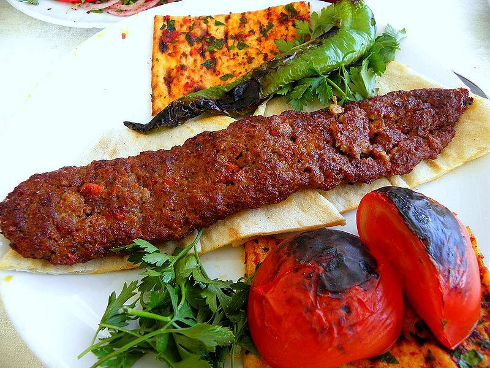 Of course, these are not all the kebabs you will find in Turkey, but these are the most popular and the ones I like the most.
Lentil Soup
That's the only soup I eat in Turkish restaurants, no matter where they are! Hot or not, it is delicious! Served with fresh lemon and hot pita bread, the Turkish variant is my favorite so far.
Gozleme
Another great choice for a quick snack, Gozleme is a traditional pastry dish, made up of hand-rolled dough and a variety of toppings: minced meat, mushrooms, veggies or different cheeses. My favorite is the cheese gozleme, and it you have it, have it from someone who's cooking it in the traditional way, as shown in the photo below. In Istanbul, Camlica Hill is a great place to try it.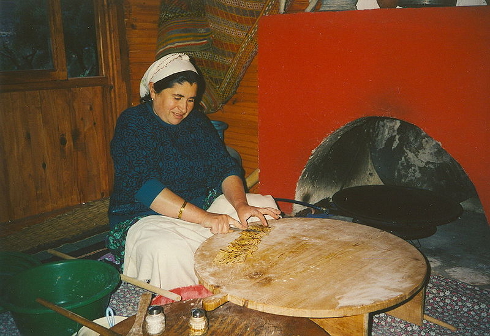 Manti
These are dumplings of minced meet wrapped in dough and served with tomato sauce, yogurt and garlic, as well as a little mint for flavor. If you like the dish and want to try it after your trip, you can buy the ready-made dumplings, then just boil them at home and prepare the sauce.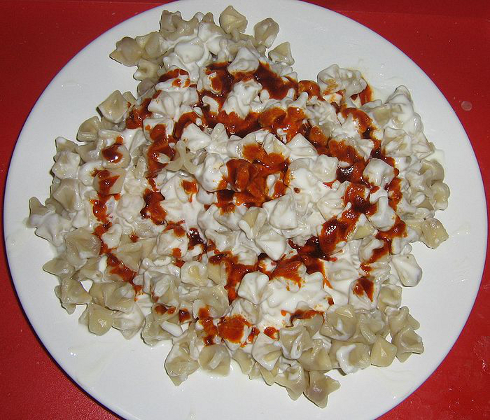 Kofte
Kofte is a ball of minced meet, spiced and grilled, then served with rice and salad. You will find a koftecisi (the place cooking and serving them) almost anywhere and they are a must try. They also have a kebab variant, but I prefer the normal kofte. If in Istanbul, try having them at Sultanahmet Koftecisi, one of the most frequently copied restaurants of the Turkish capital.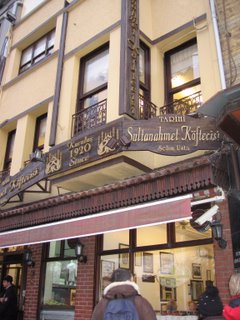 Lahmacun
Dough with minced meet on it, veggies and spices – no wonder Lahmacun is also called Turkish pizza. Also served with lemon which you can sprinkle on top, it can be rolled up to make it easier to eat. It looks like pizza, but if you ask me, the taste has nothing to do with this Italian specialty.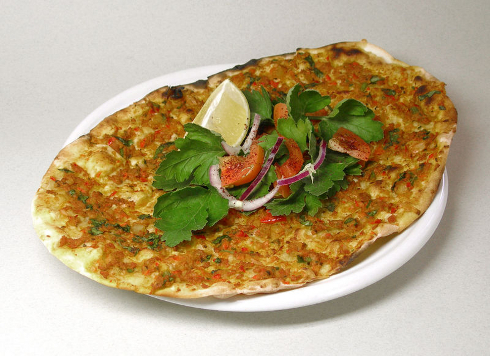 This concludes my list of all time favorite Turkish dishes anyone, traveler or not, should try before they die. You will definitely melt with pleasure and want to have these over and over and over again! Don't believe me? Well, you will notice I have no photos of my own of any of the food I've had in Turkey… The shutter bug that I am has always been to busy eating! By the time I'd remember to take a snapshot… half the food was gone 😀
Are you a fan of Turkish cuisine? Which are your favorites?