The historically-rich Cuba is on the wish list of many us who fancy going there. But before setting foot in there, there are many things you need to know beforehand in order to make most of your trip.
It's a time travel actually. The full of spirit Cubans, the coruscating colonial architecture, the vintage cars are like a façade hiding beneath it the disheartening fact that the mid-century cities are crumbling. The clocks ticking at Cuban pace to meager services and products are an irony to the high standard of medicine and education.
It's an isolated island with a charm of its own, so yes you wouldn't find any of the brands there, not even Coca-Cola or Wi-Fi.
The magnanimous, optimistic and passionate people of Cuba are its greatest asset. There are many limitations they have acquiesced to despite that the people are full of gratitude and blissful. Although the place holds an air of conflict, you have to be irrational when visiting it. Before making the trip, one should do extensive planning as it can be confusing once you reach there.
To spare you the chaotic situation here are few things should know before you set foot in the dazzling yet contradictory island.
1. Stash Your Cash
Cuba still cannot house a large number of tourists. ATM's are scarce, and it will be enervating to wait in a queue for an hour only to know that it has run out of cash. Cuba is a country of cash economy, so it's wise to bring with yourself hard cash. Only some companies have started to accept credit cards otherwise Cash is the king.
American Debit/Credit card is still not accepted.
2. Currency in Cuba
There are two currencies in Cuba which is quite confusing, but you will get around it. The National Peso (CUP) and the Convertible Peso (CUC). The Convertible Peso is used for everything, and thus it is the currency you should exchange for.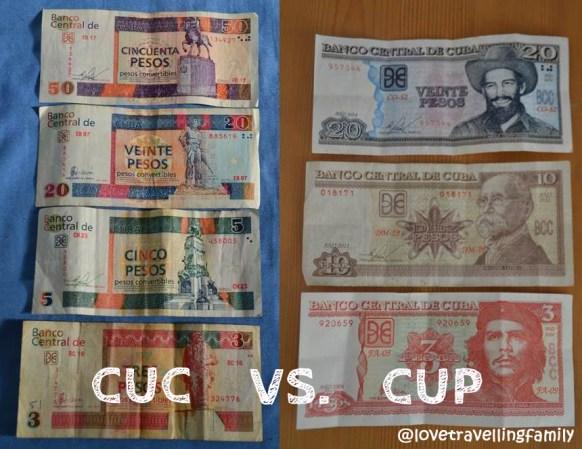 3. Don't take U.S Dollars to exchange
Places, where you can exchange currencies, are known as CADECAs. It is possible to exchange many currencies including U.S Dollars, Euros, British Pounds and Mexico Pesos but the drawback to using U.S Dollars is that you are charged a 10% additional fees.
To escape being ripped off, it's better to get the exchange at the airport or port; in fact, you can get better rates since they are not state employees.
4. What language do they speak in Cuba
You might end up learning few Spanish phrases by the end of your trip. Spanish with a bit of pretty good English is spoken there.
5. Where to stay
Now for those who wish to save money, they can opt for Casa Particular. Casa particular is when you rent a room in a family's house and get a taste of the local life. The base price in Casa Particular is $25+ per night which is only a fraction of the hotel prices.
If you wish to stay in a hotel its best to live in Old Havana rather than Central Havana. If you live in Central Havana, you will have to take a cab everytime you set out to explore the island. Whereas, you can easily cruise on foot and explore the enthralling island if you live in Old Havana.
6. Where to find Cigars in Cuba
Buy from certified Cigar shops which are guarded by cops so that you know you are safe. Do not buy from the guys loitering in the streets unless you want to get duped.
7. Flip a coin when visiting a bank
Only one person at a time is served in the banks, so you have to take turns with your partner when you go to a bank.
Every town has two types of banks- Banco de Cuba and Cadeca. The former is a proper bank and gives better rates.
8. Internet a novelty
Cuba is a redolent of ancient times and luxuries like internet and Wi-Fi are very rare. The telecommunications company has placed few WiFi Hotspots in the major cities which can only be used on the purchase of a WiFi card. Make sure to buy as many as you can since they run out fast.
There are very few places with the internet available, and there too you will be charged per hour. There is a restriction on surfing too, only 5% of the people have access to the unrestricted internet. Don't expect the internet to be FAST.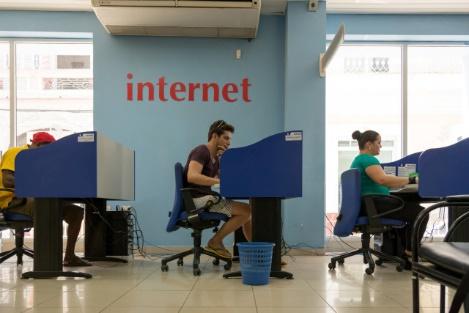 9. Have a print out of your documents
Cuba is a bit backward technologically but progressing too by every passing day. It might be really hard to find any internet café there from where you could get a print of your documents in case of any emergency. So it's a must to have a copy or a print out of your all necessary travel documents before you visit Cuba.
10. You must have a travel insurance
Whenever you visit the Cuban port the staff might ask about the documents for your travel insurance. Although we are not sure that even they will ask or not but as a safe side you must have a travel insurance because if they ask about it and you won't be able to generate any proof your entry will be denied. Usually, they don't ask but you never know when you have a bad luck!
11. Cuban Food
People used to condiments would complain about the food. Food isn't the best there due to the trade restrictions. However, you can try the food at 'Paladares Particulares,' these are privately run and have better quality than the state-run restaurants.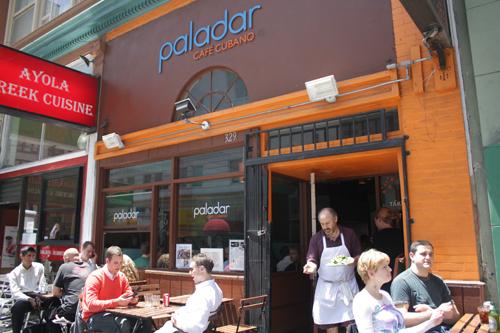 Do not eat from really cheap places, since they are considered garbage even by the locals there. Although, they do not charge much but are made from the lowest quality of products!
12. Do not Drink Tap Water in Cuba
Buy bottled water or else you will have to suffer from a pretty bad case of diarrhea or an upset stomach. Tap water is not recommended so just to make sure you do not ruin your trip avoid tap water.
13. Load Your Favourite Snacks
There isn't much variety in Cuba since they basically stock up things used by the locals, this doesn't include sweets and snacks. For your sudden unexpected cravings keep your favorite snacks with you, you won't find them there.
14. Cuban Time
Things on Cuba run on Cuban Time, i.e., at a slow pace. This sometimes upsets the tourists as the guides and buses are late but aren't it okay since you are on vacation? You need to hold your horses and ease things up!

15. It Is Easy To Travel By Bus in Cuba
Cuba is well-connected by bus and is easy to travel across the country. Since it is not possible or risky to book tickets online, it is better to go the bus station ahead of time, at least an hour earlier to get your seat confirmed.
16. Share A Taxi Ride
There are always Taxi's standing next to the bus station to pick up excess passengers who failed to get a ticket. You can share the taxi to some of the popular sites of the country for the same price as that of a bus ticket but much quicker. Reminder- if a local is with you and he pays less than you, don't be surprised. In Cuba tourists always pay MORE!
17. Vintage Taxis Have Their Routes Set
The classy vintage cars that you see and fancy riding have a particular route. They are exclusively for the tourists to ride ONLY. Traveling from city to city by a decided path isn't a bad choice if you have to relish the feel of the car.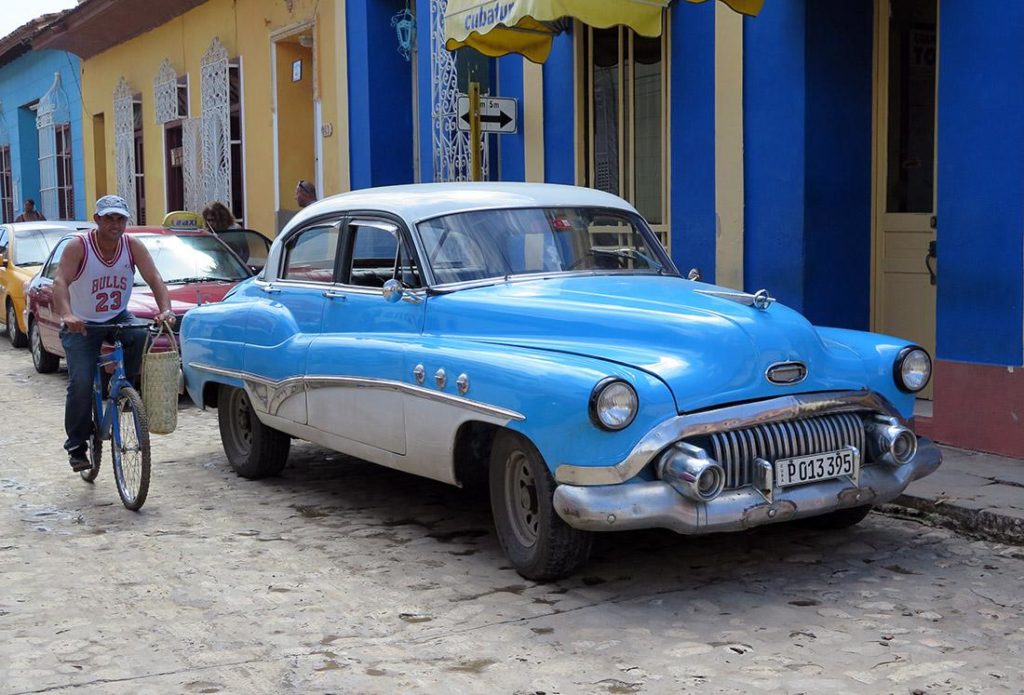 18. Token Of Gratitude
Cubans love gifts. Simple items such as toothpaste, shampoo, floss and other hygiene or personal care items are very expensive. The locals are immensely grateful for these small but costly items in Cuba. Anyone can surely manage to give these as a token of gratitude for the amazing time spent in the country.
19. Power Outlets in Cuba
All the outlets on the island are two-pronged 220 v. Therefore it is advisable to pack up an adapter and a multi-board to charge up things in one go! Be careful of the power outage when using appliances.
20. The Nightlife of Cuba
The land where different music and dance originated can surely not flee the cusps of it. All the clubs and bars are stirred up to the sound of music!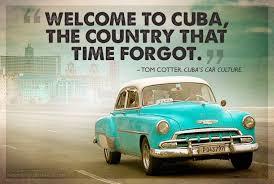 Author Bio
: Hi, I am Emma Braun a professional content writer and a passionate freelance blogger. I am currently administrating the blog at 
Craftedium