Who hasn't heard of the British classic car the Mini? Whilst not as luxury as other classic models there certainly is something unique about this model of car. There are even events held all over the UK and world, where people passionate about Minis can meet up and talk about their cars, exchange parts, look at different makes and models and just have a general chat with people that share the same interests as them.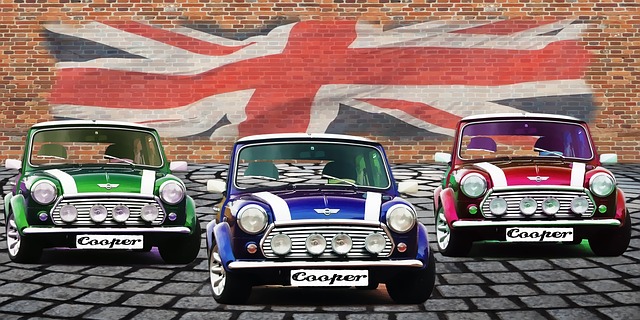 Mini Owners Club
One such club is known as the British Mini club. This was established in 1992 and contains thousands of members. It offers membership to Mini enthusiasts and owners all over the world.
The club accepts all Minis from 1959 to present day. It is interesting to see how the car has evolved over time and you can clearly see the improvements over the years. Whilst improvements have been made, the car has mostly kept its classic shape and design.
Why is it so popular?
One of the biggest reasons for Minis huge success even today is the fact that it was designed as a small economy car that would be cheap to run.
It is seen as a British icon of the 1960, where it was most popular, but even today its popularity is still quite high, the brand has aged well. You could also say that interest in the Mini was heightened again, at a later point, thanks to the TV series Mr Bean, starring Rowan Atkinson, in which the titular character drives a green mini.
The Tardis like Mini also optimised space rather well. Although small, it used a Transverse engine, which was mounted so that the engine's crank shaft axis was perpendicular to the long axis of the vehicle, this saved space, allowing for 80 percent of the floor space to be used for passenger and luggage. So even though it looked small from the outside, it was actually quite spacious.
The Mini paved the way for how most modern cars are now, offering space and great economy without having to choose between the two. Most modern front wheel drive cars took their ideas from the Mini in the way they designed their cars.
As a result of this, in 1999, Mini was voted the second most influential car of the 20th century, narrowly missing out behind the Ford Model T!
Going to Events
If you want to go to a Mini event to show off your car, or look at other peoples, it is important to make sure that your car is in good condition. Most shows will not let you show a tired, battered old mini, so make sure you look after your car. Whilst you are at any of the events, you can always ask other owners what they do to keep their car in good condition. You may find out some great hints and tips for extending the life / upkeep of your car.
One thing that may be worth mentioning is the use of Boot Liners this will keep the boot of your Mini nice and clean, which is great if you want to show the whole car off. They also protect the car from damage when carrying large or cumbersome loads and from spills, leaks and pets. Just remember these key points when showing off your mini;
Keep it clean; do not have anything in there that shouldn't be there. Take out anything with personal information on also CDs, baby seats, tools, and cleaning materials. You want the car to look showroom ready.
Be prepared to talk about it to anyone who asks. Only you can show off any unique features about your car. If you can't think of anything to say, then just talk about how great the features are, or what you do with the car, such as journeys you have taken, the quality of the ride and fuel economy.
Today's Minis
Although the basic Mini Style and bodywork remained the same for years, in 2000, BMW bought the rights to produce the Mini and began adding their own variations.
Today these variations include the Mini Cooper, Mini Coupe, the Roadster and even a convertible! You can even get some alternatives in the USA, one of which is known as the Countryman which was like a four door crossover 4×4.
Whichever Mini you choose, be sure to add that extra protection to your boot, look for Mini Boot Liners as they are premade to specifically fit your Mini without any hassle and offer the most protection. You simply open it up, place in the boot and you're done! It couldn't be easier and will save you money on repairs and cleaning in the long run.