Feeling tired after a whole year of deadlines, reports and difficult clients? Fed up with the countless hours spent inside a cubicle? Say no more! You are in desperate need of a vacation, and you need to bring some of the magic back into your life. Luckily for you, the season of good will is just around the corner. And if you've been too busy up to make any arrangements, we have a couple of last minute suggestions for you.
And what could be better after so many days of crunching numbers sitting at the desk than some fresh air? How about… an amusement park?! I know, I know, it's a great idea… Yes, it's true most amusement parks are closed during the winter, but…. not all of them. We did a bit of a research among the most renowned destinations and we came up with a list of parks which are also opened during the winter holidays.
If you still remember fondly those days when, as a kid, you tried hard to stay awake in order to catch Santa under your Christmas tree, you'll particularly enjoy this announcement: Nowadays you don't need to stalk Santa anymore, as most winter parks arrange meetings with Mr. Claus himself along with plenty more goodies.
If you're living in Europe, or just happen to be here for the holidays, check out these cool amusement parks with a winter theme.
1. SANTA PARK, Napapiiri, Rovaniemi, FINLAND
Web: http://www.santapark.com
FB: http://www.facebook.com/pages/SantaPark
The most notorious of these winter themed parks is Santa Park, in Finland. Located in Napapiiri (Rovaniemi), it offers its visitors countless attractions, such as the Elf School, Mrs Claus Gingerbread Kitchen, Santa's Office, Four Seasons Sleigh Ride, Ice Princess Ice Gallery, Giant Snow Globe, Post Office, plus much more to see and do.
If you want to get married in a place that is definitely unique, you can tie the knot in the enchanting Ice Gallery.
Entrance fees: adults 29 eur, children (4-14 years) 24 eur
The Tickets are valid for two consecutive days and include the following activities and places of interest: Ice Gallery, undercrossing of the Arctic Circle, Elf Workshop, Elf School, Santa's Office, Post Office, Wishing Drum, Four Seasons — Sleigh Ride, Santa Park Show three times a day, Forging a lucky coin, Mrs Claus Gingerbread Kitchen, Giant Snow Globe, Champaigne Bar, Personal video greeting, Calligraphy school, Angry Birds Activity Area
2. ALTON TOWERS RESORT, Alton, Staffordshire, UK
Web: http://www.altontowers.com
FB: http://www.facebook.com/altontowersresort
Alton Towers offers all kinds of excitements for this year's end; there are the Christmas breaks, the New Year's break, some Festive breaks and the Pirate weekends.
For Christmas visitors have the opportunity to be transported back to the Ice Age with Sid, Scrat and friends. They can stay over in one of the Resort's uniquely themed hotels, visit Santa Claus in his secret hideaway and meet his special reindeer. Children have a selection of rides and attractions to choose from, including the amazing Ice Age 4D Experience. They can meet and greet Ice Age characters Scrat and Sid for a truly magical adventure.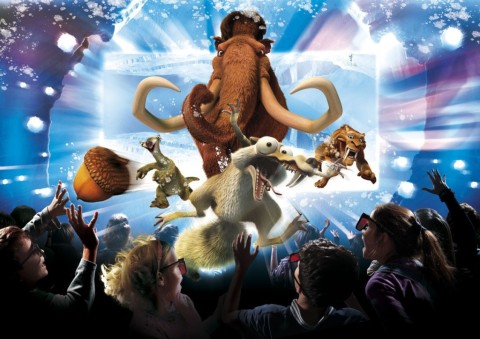 The whole family can relax in the cinema, watching the family favourite Ice Age films. If you get tired of the cold, you can warm up in the wonderful tropical Waterpark. There are popular Doodles puppet shows and fabulous evening entertainment attractions with live singers and Kids Club activities. Last, but not least, there's a scrumptious Christmas dinner and breakfast that will sent your taste buds to heaven.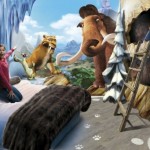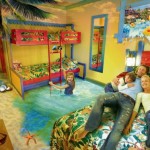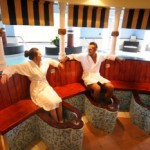 Prices for the Christmas Breaks 2012: adults (12+) from £65.00pppn, child (2-11) from £45.00pppn. Kids go HALF PRICE when you enter the code XMAS1 online.
Apart from the Christmas Break, there's also the New Year Short Break, the Festive Breaks, the Winter Breaks, the Spa Breaks and the Pirate Weekends.
3. SUNDOWN ADVENTURELAND, UK
Web: http://www.sundownadventureland.co.uk/
FB: http://www.facebook.com/pages/Sundown-Adventureland
Fancy fairytale environments? You've come to the right place. A family size sleigh carries visitors through a Magical Winter Forest with 12 fairy tale scenes of singing and dancing enchanted characters that include Red Riding Hood, Puss in the Boots, Cinderella, Alice in Wonderland and Rapunzel. Music and superbly synchronized LED light effects accompany guests as they make their way to Santa's house where the elves introduce Mr. and Mrs. Clause. Visitors can chat with them whilst receiving their presents.
Also, if you're a big fan of Angry Birds, you shouldn't miss the Angry Birds playground.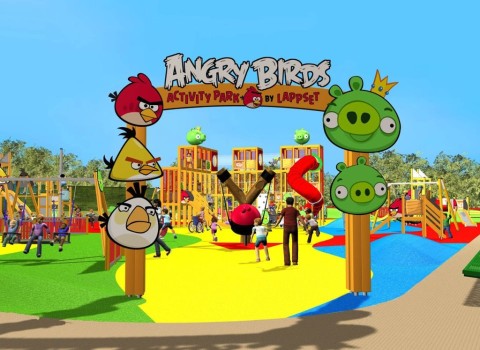 Tickets: adults and children 11 pounds each; children under 2, free entrance
4. THE FORBIDDEN CORNER, North Yorkshire, UK
Web: http://www.theforbiddencorner.co.uk/
FB: http://www.facebook.com/forbiddencorner
This is not as much a Christmas destination, but a cool and weird destination nevertheless. The Forbidden Corner was branded as "The Strangest Place in the World". It was originally built as a private folly but, due to public demand, was subsequently opened to the public.
When it was first featured in the media, with televisions programs and newspapers recommending it, it also attracted the attention form the planning officers. By some oversight, no planning permission had been applied for it. It was suggested that retrospective planning permission was to be applied for.
Prices for visiting: adult(s) £10.50; children £8.50
5. TWINLAKES WINTER WONDERLAND Leicestershire, UK
Web: http://www.twinlakespark.co.uk
FB: http://www.facebook.com/TwinlakesPark
Join Santa and his Elves for a breakfast feast this December to add that extra special magic to your Christmas! Join Santa and his elves for a yummy breakfast, heaps of fun and, if you've been good all year, a special gift to take home! Plus exclusive entry to Twinlakes Winter Wonderland! Includes Breakfast 8.30am — 10am, Theme Park 10am until close.
Package includes: Full English Breakfast with Santa and Mrs Claus, Gift, Gingerbread man workshop, memorable photo, Disco, Full days entry to Twinlakes Park and Winter Wonderland
Closed Dec 24, 25, & 26th
6. TIVOLI, Copenhagen, DENMARK
Web: http://www.tivoli.dk/en/
FB: https://www.facebook.com/tivoli
Because multiculturalism is the new black, this year you can experience a mix of Christmas themes in Tivoli Gardens.
The new Nordic Christmas theme boasts a mix of Norwegian, Swedish and Danish Christmas traditions. There's also a Russian Christmas theme where you can enjoy the Siberian Railroad and the Russian Troika, and there's even some Asian twist in the Chinese Lantern show. Among the new attractions of the park are the Christmas Express and the Music Carousel.
Christmas in Tivoli features traditional stalls adding to the vibrant Christmas atmosphere. This year you can discover 50 Christmas stalls along the paths of Tivoli Gardens, brimming with Christmas items such as fresh-baked Christmas pastries, gingerbread, and sizzling pancakes. The stalls also sell Scandinavian crafts, do-it-yourself Christmas decorations, and much more.
When: 16 nov – 31 dec 2012.
Please note that Tivoli is closed 24 and 25 December 2012.
7. PHANTASIALAND, Berlin, GERMANY
Web: http://www.phantasialand.de/en/home
FB: http://www.facebook.com/bester.freizeitpark
Phantasialand staff are looking forward to welcoming you in enchanted winter landscapes with decorated streets and plazas, a shining sea of lights and pleasant fragrances. They promise you that you'll be truly amazed because fairy tales become reality and children's dreams come true.
You may celebrate New Year's Eve at Phantasialand, accompanied by various sparkling highlights.
Fantissima, the exhilarating evening show, provides you with unforgettable memories, exclusive entertainment and culinary delights.
8. EFTELING, Kaatsheuvel, THE NETHERLANDS
Web: http://www.efteling.co.uk/EN/EN-Home/thepark.html
FB: http://www.facebook.com/Efteling
Efteling was opened in 1952 as a Fairytale Forest, and, in the years that followed, the park grew into a the World of Wonders, where fairy tales are brought to life in spectacular theme park attractions.
In the Fairytale Forest you can walk from fairytale to fairytale in an enchanting setting. In Carnival Festival, you will be taken on a journey past 15 different countries and 270 different dolls. A trip down SalzburgerLand village makes you believe you are actually in Austria.
The Bobsleigh run offers a ride racing downhill at 60 km/h, that will make your teeth chatter and your heart thump out of your chest. Whatever you do, you should not miss Aquanura, Europe's biggest fountain spectacle. For the train lovers, the Efteling has three working steam trains.
Efteling is a magical experience, full of thrilling adventures. It's a fairytale world full of wondrous tales, delightful dreams and adventures at high speed. The Efteling is open every season.
Admission price: € 32.00 per person; free admission for children under 4
9. SANTA WORLD Tomteland, SWEDEN
Web: http://www.santaworld.se
FB: http://www.facebook.com/pages/Tomteland

This Santa's den is well hidden in the forest next to Gesunda mountain, spread across 110,000 square metres and surrounded by lakes and waterfalls.
There is never a dull moment in Santa's village, as it's buzzing with goblins, trolls and fairies. You can be part of the workshops and, if you are a morning person, you can even wake Santa up. This is your chance to come face to face with the characters of your favourite fairytales.
Children 0-3 years free
Children 3-12 years 140 SEK
175 SEK Adult
10. LISEBERG Park, SWEDEN
This vintage amusement park near Goteborg was opened in 1923. Despite its age, it still attracts 3 million visitors each year. In 2005 Forbes magazine listed Liseberg among the top 10 amusement parks in the world. With 21 attractions and rides and nearly 5.000.000 Christmas lights you can't expect anything less than a brilliant Christmas!
Christmas at Liseberg is open from mid-November to December 23rd. Be sure to check out the Christmas market, with traditional Swedish cuisine, mulled wine and döner kebab (made from reindeer meat).
[all pictures from official websites and Facebook pages]
Hmmmm….
Still with me? I bet by now you're so itching to go that you're even considering baby-sitting for holidays in order to find an excuse to go sit in Santa's workshop all day…
Our advice is go, have fun, take plentry of pictures and make sure you come back and share some of them with us!
You can also leave a comment and tell us what other great amusement parks in Europe we might have missed. Come back soon, as we plan to feature some of the best winter parks in America.