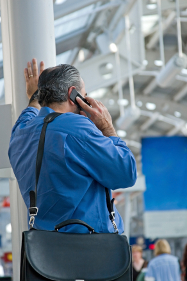 You know that announcement made each time by the pilot of the aircraft with the request to turn off electronic devices during take-off and landing? 30% of US flyers admit to have left accidentally turned on Portable Electronic Devices (PEDs) according to the new study "Portable Electronic Devices on Aircraft." According to this study released today by the Airline Passenger Experience Association (APEX) and the Consumer Electronics Association (CEA)®, 99% of adult airline passengers who travel with PEDs said they brought at least such a device in the airplane in the past 12 months, and 69% said they used their devices during flight.
Smartphones are the most used PEDs in aircrafts (28% of the respondents mentioned them), followed by laptop computers (25% of the mentions), tablets (23%), digital audio or MP3 players (23%) and e-Readers (13%).
"Airline passengers have come to rely on their smartphones, tablets and e-Readers as essential travel companions," said Doug Johnson, vice president of technology policy at CEA. "Understanding the attitudes and behaviors of passengers that are using electronic devices while traveling will help the FAA make informed decisions."

"This study showed us that most travelers are using their PEDs as often as possible while traveling, and many would like even more opportunities to use their devices," said Russell A. Lemieux, APEX executive director. Four in ten passengers would like to use their devices during all phases of flight, including take-off and landing, according to the study. "The data in the study reveals important insights into actual passenger behavior, which we hope the FAA will find useful as it deliberates on this issue," Lemieux said.
[adsense]
Most of the flyers mentioned they choose to turn their devices completely off (59%), or set them on "airplane mode" (21%), while 5% mentioned they sometimes turn their devices completely off. 61% of the passengers who accidentally left their PED turned on in-flight said it was a smartphone.
Another recent study revealed that 80% consider fellow passengers should not be allowed to make phone calls from their cells during their journey on board air crafts.