When it comes to exploring the natural wonders of Utah, Zion National Park and Bryce Canyon National Park are two must-visit destinations. The distance between Zion and Bryce is an important factor to consider when planning your itinerary.
Located in southern Utah, these parks offer distinct landscapes and breathtaking vistas that showcase the region's unique beauty. While both parks are known for their stunning rock formations, each has its own charm and allure.
Zion National Park lies approximately 84 miles southwest of Bryce Canyon National Park. The journey between the two can be an exciting road trip filled with scenic drives through picturesque landscapes. As you make your way from Zion to Bryce, you'll have the opportunity to witness the transition from towering sandstone cliffs and lush greenery to hoodoos – tall, thin spires of rock that create a surreal landscape in Bryce Canyon.
Distance Between Zion And Bryce
When planning a trip to the stunning national parks of Zion and Bryce, one important factor to consider is the distance between these two iconic destinations. Situated in southern Utah, both parks offer breathtaking natural beauty and unique outdoor experiences. Let's explore the distance between Zion and Bryce and how it can impact your travel plans.
Best Time to Visit Zion and Bryce: Weather and Climate
Before diving into the logistics of getting from Zion to Bryce, it's essential to understand the best time to visit both parks. The weather and climate play a significant role in determining when it's most enjoyable to explore these natural wonders.
In general, spring (March-May) and fall (September-November) tend to be ideal for visiting Zion National Park as temperatures are mild, ranging from 60°F (15°C) to 80°F (27°C). The park bursts with vibrant colors during springtime, while fall brings cooler temperatures and mesmerizing foliage.
On the other hand, summer can get scorching hot in Zion, with temperatures often exceeding 100°F (38°C). However, if you plan your visit during this time, early mornings or late afternoons offer more pleasant conditions for hiking.
Bryce Canyon National Park sits at a higher elevation than Zion, which means cooler temperatures throughout the year. Summers are comfortably warm during the day but cool down significantly at night. Fall brings crisp air and golden hues that enhance the park's unique hoodoos formations.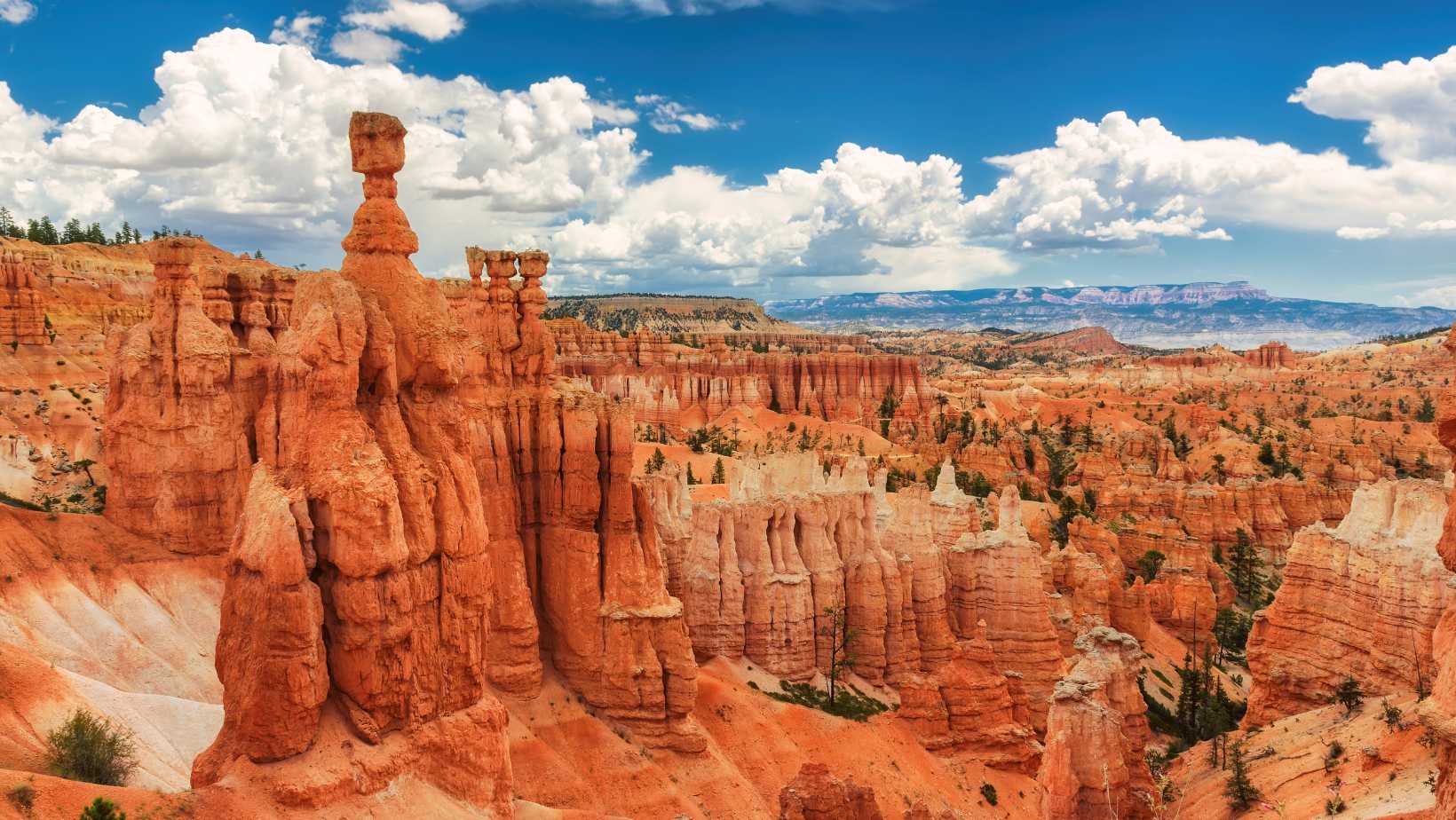 Camping Options Near Zion And Bryce
When planning a trip to Zion National Park and Bryce Canyon National Park, it's important to consider the camping options available nearby. Both parks offer stunning natural beauty and outdoor activities, making them popular destinations for nature enthusiasts.
Watchman Campground (Zion): Located within Zion National Park, the Watchman Campground is a convenient option for those looking to explore the park. It offers both tent and RV camping sites, with amenities such as flush toilets, drinking water, picnic tables, fire rings, and a dump station for RVs. Reservations are highly recommended due to its popularity.
South Campground (Zion): Another campground within Zion National Park is the South Campground. This first-come, first-served campground offers tent-only sites and is situated close to the Visitor Center and shuttle stops. Basic facilities like pit toilets are available, but there are no hookups or showers on-site.
North Campground (Bryce): Moving on to Bryce Canyon National Park, the North Campground provides a serene setting amidst pine trees. It features tent and RV camping sites with limited amenities including flush toilets and drinking water spigots. Similar to the South Campground in Zion, this campground operates on a first-come, first-served basis.
Sunset Campground (Bryce): Situated near Bryce Canyon's famous viewpoints like Sunset Point and Sunrise Point, the Sunset Campground offers tent-only sites surrounded by ponderosa pines. Amenities include restrooms with flushing toilets but no showers or hookups are available here either.
Ruby's Inn RV Park & Campground: For those who prefer full-service campgrounds outside of the national parks' boundaries, Ruby's Inn RV Park & Campground is an ideal choice located just outside Bryce Canyon National Park's entrance gate. It provides various types of campsites suitable for both tents and RVs, along with amenities like showers, laundry facilities, electrical hookups, and a general store.
Remember to check the specific regulations and availability of campsites in advance as they may vary depending on the season. Additionally, be sure to follow Leave No Trace principles while enjoying your camping experience to help preserve these beautiful natural areas for future generations.
In conclusion, whether you choose to camp within Zion or Bryce or opt for a campground outside the parks' boundaries, there are several options available to suit different preferences. Just make sure to plan ahead and secure your spot early if reservations are required. Happy camping!