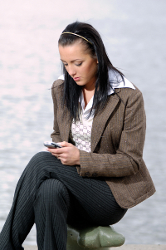 You'd think traveling all the time for business might be a hassle for those forced to do it, but the majority of businessmen think it's quite a blast – they get time off the office madness, they get to do a bit of sightseeing, they get to experience a sense of freedom. All in all, business travel is more leisure than business, as shown by the survey commissioned by Fairfield Inn & Suites by Marriott.
After polling 1001 businessmen, the survey concluded that close to 90% of business travelers like getting ready for their trips, during which they feel positive. Not surprising, as 60% of them state traveling gives them lots of freedom. What they like most about business travel is discovering new places, trying new foods, and – shocker – not going into the office and spending time alone. Close to a quarter also said they actually get more done on the road than in the office. 
Frequent traveling for business also helps respondents improve self confidence, 76% claiming they feel more prepared in life. A third of them also stated they would like to travel more for businesses, if possible.
[adsense]
Another positive effect, experienced by 59% of respondents, is that the time apart from their spouse rekindles a feeling of 'honeymoon', which enhances their relationships.
Although they clearly enjoy their trips, business travelers keep in touch with their family and friends. Over 70% get in touch at least once a day and about half make sure bring personal items with them to remind them of their loved ones. Being on the road so much also makes business travelers appreciate the time with friends and family a lot more.
As this is the second survey into business travel trends of the day, with an earlier one on mobile device usage during business trips, it's clear hotels are targeting this segment and making all possible efforts to determine what the real travel needs are and how to approach them. This might me a clear sign business travel is still on the rise.