Wondering about the distance between Athens and Santorini? Well, let me give you the lowdown. The distance between these two picturesque Greek destinations is approximately 200 kilometers (120 miles). That's right, just a short hop away in terms of travel, but it can feel like a world apart regarding each place's unique experiences.
Now, you might be thinking about how to cover this distance. Fear not! There are multiple transportation options available to suit your preferences. You can take a ferry ride from Athens' port of Piraeus or Rafina, which will transport you across the Aegean Sea to Santorini in around 4-5 hours, depending on the type of ferry.
Alternatively, if time is of the essence for you, flights that can whisk you away from Athens International Airport to Santorini in just 45 minutes are available.
Distance Between Athens and Santorini
When traveling between Athens and Santorini, a few options exist. One popular choice is taking a ferry. Ferries provide a scenic journey across the Aegean Sea, allowing travelers to soak in the beauty of the Greek islands along the way.
Several ferry companies operate routes between Athens (specifically Piraeus Port) and Santorini. These ferries offer different classes of service, ranging from economy to business class, giving passengers flexibility based on their preferences and budget.
The duration of the ferry ride can vary depending on factors such as weather conditions and the type of ferry chosen. On average, the journey takes around 5-8 hours. However, it's important to note that travel times may change, so it's advisable to check with the ferry company for accurate schedules before planning your trip.
Flight Options for Traveling Between Athens and Santorini
Flying is an excellent option for those seeking a quicker way to reach Santorini from Athens or vice versa. Several airlines operate daily flights between Athens International Airport (ATH) and Santorini National Airport (JTR).
Flights typically take around 45 minutes, making them a convenient choice for travelers who want to minimize travel time or have limited days available. Additionally, flight schedules are more reliable than ferry timetables since weather conditions less influence them.
It's worth noting that flight prices can vary depending on factors such as seasonality and how far in advance you book your ticket. It's recommended to compare prices across different airlines or use online booking platforms that aggregate flight options for easier comparison.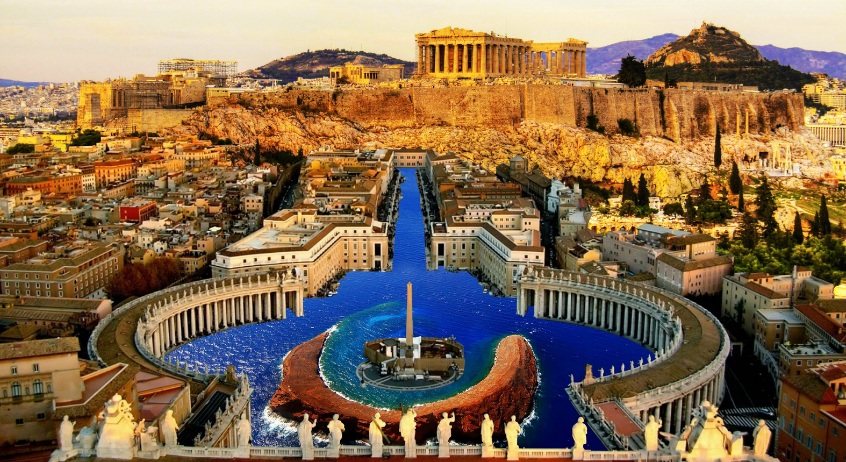 Traveling by Ferry
When traveling between Athens and Santorini, taking a ferry is a popular option. With several ferry companies operating on this route, choosing the right one for your journey is important. Factors to consider include reliability, comfort, and price.
One reputable ferry company is Blue Star Ferries. They are known for their punctuality and excellent service and offer comfortable seating options and modern amenities. Another reliable option is Hellenic Seaways, which provides high-speed ferries that can reduce travel time significantly.
To make an informed decision, it's worth comparing the prices and schedules of different ferry companies. Websites like Direct Ferries and Ferryhopper are great resources for finding information about various operators, allowing you to select the one that best suits your needs.
Duration of Ferry Journey
The duration of the ferry journey from Athens to Santorini depends on factors such as weather conditions, type of vessel, and route taken. On average, the trip takes around 5-8 hours. However, some high-speed ferries can journey in as little as 2-3 hours.
It's important to note that travel times may vary throughout the year due to seasonal schedules or changes in sea conditions. During peak tourist season (typically June-August), more frequent departures with shorter travel times tend to occur. Off-peak periods may have fewer departures or longer travel durations.
If you prefer a faster journey or have limited time, opting for a high-speed ferry can be convenient. These vessels offer quicker crossings but may come at a higher cost than slower ferries.
The duration of your journey from Athens to Santorini depends on your chosen mode of transportation: ferries taking around 5-8 hours, high-speed catamarans offering a faster option at approximately 2-4 hours, or flights providing the quickest travel time of around 45 minutes.
Be sure to check schedules, consider weather conditions, and plan accordingly to make the most of your trip.