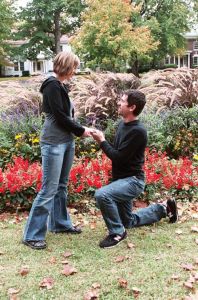 Valentine's Day is fast approaching and those who want to take their relationship to the next level need inspiration to surprise their partner with a memorable marriage proposal. Just on time to help them out, Cheapflights.com has put up a list with the top ten locations to propose to your soul mate. Not only have they named the place, they have also suggested where and how to pop the question, guaranteeing a breathtaking effect.
Europe dominates this romantic hotspot top with 5 cities on the list, another one going to Australia, one to Asia, scored by India. North America is the other big winner of the top marriage proposal destinations with 3 cities included.
[adsense]
Whitsundays, Australia — mid air in a helicopter offering a view of the Heart Reef or on top of Mount Olfield, for those who want to add even more thrill and excitement to their proposal.
London, United Kingdom — private capsule on the London Eye, with truffles and champagne is the more traditional approach, or the 17th-century Monument in the heart of London, after climbing 311 steps to the top.
Paris, France – Luxembourg Gardens, near the Medici Fountain, to mix love of history with that of literature and great writers who used to take long walks here.
Verona, Italy. No wonder the city of Romeo and Juliet made it to the list. Juliet's house, unfortunately didn't, the hot spot for a marriage proposal in Verona being Giardino Giusti.
Vienna, Austria. The Schonbrunn Palace is the classic option, but take my word for it, its exquisite gardens work way better in the summer. The other proposal is quite spot on however — it is Ball Season in Vieanna, so you can pop the question at one of the 450 dances organized in the city. Choose a masquerade or one where you can show your waltzing skills and get down on one knee!
New Orleans, USA —the vintage and very romantic old mahogany-lined Street Car or under the oak trees of Audobon Park.
Agra, India – Taj Mahal, especially in the Persian Garden.
Granada, Spain — Alhambra, the ancient palace-citadel, up on the Albaicin or in the Arab Quarter.
San Francisco, USA – the Palace of the Legion of Honor
Vancouver, Canada — the city to propose in the great outdoors – Queen Elizabeth Park or Lighthouse Park.
Have you or would you propose in one of these cities? Or do you have a better idea that you'd like to share?