When it comes to April Fool's Day, I always have quite some trouble navigating the news. Everything seems suspicious to me! Everything! In some cases, such as Google Nose – which is by far the coolest April Fool's campaign if you asked me – it is easy to catch on. In other cases, I can't help but hope they hurry up and make it reality. In others… you start to wonder. They're announcing an investor conference to announce results. Are they for real?
But before I get carried away, let's take a look at what pranks I've identified so far!
Virgin launched the glass bottomed plane today. Sucks if you're afraid of heights.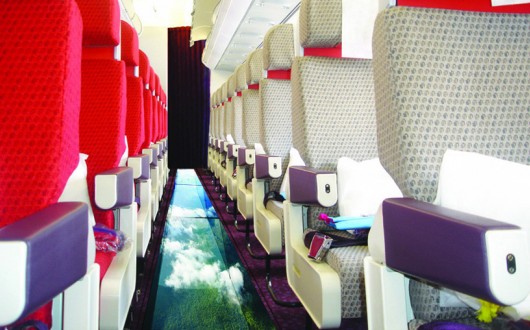 On second thought, it's scary even if you are not afraid of heights, if I remember by CN Tower experience correctly! Either way, I do hope this becomes reality soon. Of course, it might take signing a lot of papers to legally protect Virgin before boarding such a plane, but it would be fun, wouldn't it?
JetBlue introduced three new destinations: April River Airport (APR) in Papua New Guinea, Ilford Airport (ILF) in Manitoba, Canada, and Gold Coast Airport (OOL) in Coolangatta, Australia. If they sound fishy, they should! Luckily, the press release came with fair warning that this is an April Fool's prank so I figured it out fast.
[adsense]
PADI (Professional Association of Diving Instructors) launched a really cool thing today -Â the PADI Pet Diver certification, which is a first-of-its-kind scuba dive training program exclusively for dogs and cats.
"Scuba diving provides a memorable and awe-inspiring experience that friends and family can enjoy together, so we wanted to expand our leading diver certification programs so that even the furriest family members could participate in the fun," said Kristin Valette , vice president of marketing and communications for PADI Americas. "PADI has always believed that we can teach anyone to scuba dive, and our new Pet Diver program proves it–while offering pet owners the opportunity to bond with their beloved animals in a whole new way."
Before you ask, yes, I've already signed Ares up, A White Swiss Shepherd needs to know his stuff! 😀
WestJet also loves pets! So much that the airline issued this announcement: "All WestJet flights will now allow for any type of animal to travel in the cabin provided it fits safely on board the aircraft. Further, the airline will no longer require animals to be kept in kennels while on board the aircraft."
It would be awesome to have the very same Ares run around the plane, stealing the lunches of everyone on board 😀 He has no limits when it comes to food and playing anyway!
So, if there are more cool pranks, I'll keep you informed. Feel free to share what you find in the comments! Happy April Fool's Day everyone 🙂