We've all heard the loud voices professing mobile is the future. Yours truly has a nice little folder full of travel apps on her smartphone. But while the benefits of going mobile and offering an app to your guests might sound great, not all hotels have the time and resources to build their own application. Here's where AppATrip and their mobile apps come in handy.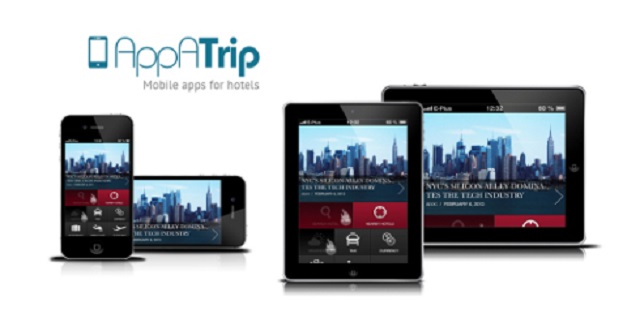 What AppATrip actually does is offer you a a ready-to-use mobile app that you can easily customize to suit your hotel's needs. It works on all major mobile operating systems, iOS, Android, BlackBerry and Windows Mobile and it is quite a flexible setup – other than the core application setup, you can add modules as you see fit. The pricing scheme also allows to pay a one time price or go for a monthly fee.
Hotels can easily interact with guests and make their stay by offering them mobile booking, connectivity with social channels to keep the conversation going, hotel information and several useful travel tools, a mobile link to room service, car hire, restaurant bookings and even premium content, such as newspaper subscription, along with many other interesting features. To make the application relevant to each hotel that acquires it, AppATrip is easily customized to match a hotels branding and design.
Their model is pretty easy – instead of spending time and money designing, building and implementing a mobile app, take the ready-made AppATrip and personalize it to offer your guests everything you think they need for a more pleasant stay, increasing your chances of having them buy more of your services during their stay and of seeing them return for a future stay.
From a business standpoint, AppATrip is a great choice in what "time to market" is concerned. If you buy it and customize it, you can have your hotel's mobile app available in no time. The other major benefit I'd point out is the possibility to build your app as you go. You can start with a basic package of features and then add more as you go and see that they are actually helping you boost your business and increase revenue.
Although AppATrip is rather new to the market (the company was founded in 2012), they have already scored a few interesting clients, among which Radisson Blu's Shanghai Pudong Central Park and two Millennium hotels in Glasgow and Shanghai. It will be quite interesting to see what's next for this travel tech company!