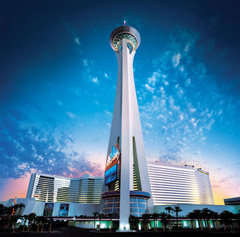 Charitable thrill-seekers wanted to leap over 800 feet from the famous landmark tower on the Las Vegas "Strip" as part of a fund-raising event on Thursday, December 16, 2010! "Jump 4 Joy" aims to raise donations for a children's charity and will host SkyJump Las Vegas, a very popular attraction that opened in April at the Stratosphere Casino, Hotel & Tower.
SkyJump riders will be wearing protection gear, and leap from level 108 of the Stratosphere Tower while hooked up to a high-speed decelerator that provides a "controlled free fall" to a landing pad 829 feet below.
Every day and in every corner of the world, hospitalized children are expected to do things that are very scary. At this moment, a hospitalized child is getting poked or prodded or hurt somewhere on their little body. And they are scared. I'm jumping 829 feet from near the top of the Stratosphere Tower, and I am scared. If these children can overcome their fears, we can overcome our fears by taking an adrenaline-pumping plunge," said Andrea Standish, Executive Director of the nonprofit Standish Foundation for Children, a branch of Austin, Texas-based My Healing Place.

Standish Foundation's mission is to "help hospitals to be happier places for children.
According to Standish, half a dozen people have already subscribed to the fund raising jump, including a pediatrician and a father of triplets. To be able to make the jump, the extreme sports lovers must first donate at least USD 5,000. Donations are tax-deductible when you efile for free and will benefit hospital programs that benefit children and their parents. The minimum age of a SkyJump rider is 14.
Additional information on the "Jump 4 Joy" event to be held from 6 p.m. to 9 p.m. on December 16, 2010, can be found at https://www.StandishFoundation.org.