Las Vegas has a packed musical calendar, with concerts and gigs of all sizes, from the largest arenas and amphitheatres down to small clubs, and even the traditional Vegas cocktail lounge, where you can find jazz and swing performers echoing the town's roots, with shows paying homage to the likes of Frank Sinatra, Mel Torme, and other lounge singers of the past. There's a bevy of more up-to-date entertainment, too, as well as Vegas staples such as The Blue Man Group and Cirque du Soleil.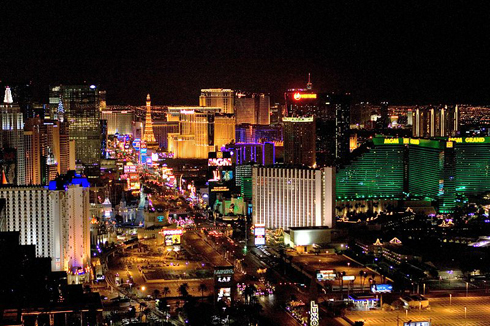 Rod Stewart has been playing a string of dates at Caesars Palace since July 20th, continuing until August 4th, featuring selections from his 2013 album, Time.
American through and through, Rick Springfield, famous for the hit 'Garden Party', is at the Orleans Hotel and Casino for two nights, August 3rd and 4th, whilst from further afield, songstress Celine Dion is in almost a month-long residency at Caesars Palace, from August 6th to 28th.
On consecutive nights, you could take in Toni Braxton at The Palms Hotel & Casino, then Kool & the Gang at The Cannery Casino & Hotel, on August 9th and 10th respectively, as well as a brace of other one-off shows.
Vegas has a number of 'fixture' shows of all sizes, with artists appearing on a nightly basis, and you'll find Donny and Marie Osmond in nightly residence at the Flamingo Showroom, whilst over at The Plaza Hotel & Casino, The Phat Pack present a swing and popular song show with an obvious nod to Vega's past, and the heady days of Sinatra's 'Rat Pack'. In the same vein, but perhaps with not such an obvious link, Billy Stritch sings the Mel Torme Songbook at The Smith Center on August 23 and 24th.
Jazz-rockers Steely Dan stop by briefly at The Palms Hotel & Casino on August 23, continuing their 2013 tour in other parts of the country, whilst British rock/pop guitarist Peter Frampton presents Frampton's Guitar Circus at the LVH-Las Vegas Hotel & Casino the same evening. Choices, choices.
American AOR masters Journey take us through almost to the end of the month with their shows at The Palms Hotel & Casino on August 28th and 29th, and you can round off the calendar with Air Supply, who'll be at the Orleans Showroom on August 30th and September 1st.
Vegas wouldn't be Vegas without some leaning to adult preferences, and there's a selection of cabaret and burlesque shows to be found in all parts of the city.
This short article can only scratch the surface of what's on offer, and it's hopefully clear that there are all manner of shows to suit all tastes and age groups, which in some cases will lead the visitor to choice anxiety, perhaps with two equally desirable shows in different venues on the same evening.
Once you've secured your car rental, Las Vegas will be found to be quite car-friendly. Most of the venues listed will have ample parking provision, sometimes self-parking, and sometimes valet-controlled. Some of the larger hotels will want to perform a security check as you enter their parking garage, though, so be prepared to 'pop the trunk' for them. Some venues will charge for valet parking, others will be free; either way, be prepared to tip your valet as you leave!