It has earned a reputation as "Sin City", but Vegas takes on a new aura for the international day of lovers. Its racy shows and decadent attractions are reason enough to book a ticket there now, but if you follow this Valentine's Day itinerary, the only thing you'll be gambling with is your heart.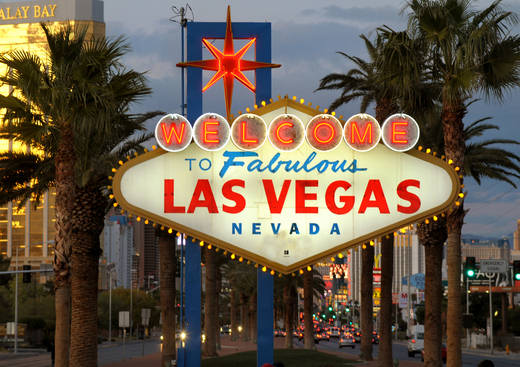 See Vegas…
Start your evening at sunset, and take your love to new heights with a ride to the top of the Eiffel Tower at hotel Paris. It may be only half the size of the real thing, but the tower is still tall enough to give you and your lover a breathtaking view of the Las Vegas skyline, lights and all.
Enjoy Vegas…
For a second romantic stop before dinner and a show, head to the Fountains of Bellagio to witness the famous aquatic choreography that the five-star hotel is known for. Classical opera sets the ambiance for this breath-taking show of lights and the most spectacular water features you have ever seen. And if you're lucky, you might just feel the tickle of drops in the wind while cuddled with your significant other. The show takes place every 15 minutes until midnight, so a leisurely stroll will get you there in time.
[adsense]
Taste Vegas…
After the waterworks, go inside the Bellagio for a meal at one of its gourmet restaurants. Le Cirque's French-themed menu and the Spanish-French fusion cuisine at Picasso have both been given a AAA Five Diamond rating multiple times. Or if your palate is craving something as sweet and spicy as your Valetine's Day rendezvous, try the authentic Asian dishes at Jasmine. After dinner, make your way to Treasure Island to catch the late showing of Cirque du Soleil's Mystere, a high-drama production infused with vibrant colour, world-class dancing, and all the theatrics that have made the company a household name.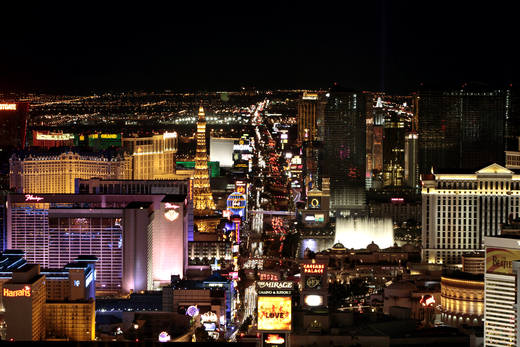 Relax in Vegas…
Sway to the rhythm of the Grand Canal with a gondola ride at the Venetian hotel. This love-inspired mini voyage will float you past quaint little cafes, romantic balconies, and a life-scale depiction of one of Italy's most renown cities for fantasy and charm. And because it's a special occasion, splurge on the two-passenger gondola for a bit of privacy. Make your reservation in advance to make sure you'll be able to embark.
Get Married in Vegas…
Or if you're feeling brave enough to take the plunge, get married in the eloping capital of the world. Las Vegas's Little White Wedding Chapel will not only put on a last-minute ceremony for you but also invite your friends and family to be a part of your quickie vows via Web cam. Call ahead for a package, and be whisked away from dinner to the church in a limousine where they'll be waiting for you with a bouquet in hand.
About the author
Michael Chidzey. London-based, Product Development Manager of the popular Stag Weekends & Hen Party Company, Chillisauce.