From the mountains of Switzerland to the canals of Venice, Europe is home to some of the world's most remarkable destinations. A scenic continent of immense natural beauty, the top sights of Europe are best experience by travelling on road.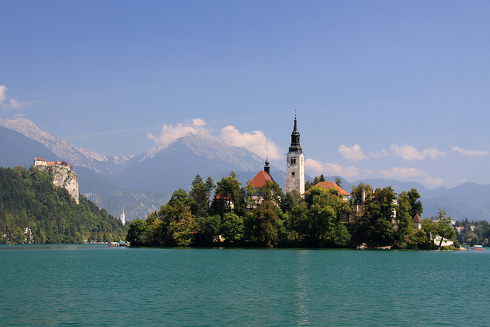 Slovenia's Lake Bled is one of the most recognisable lakes in Europe. Image
Instead of travelling around Europe by air, consider embarking on a coach holiday around the continent.
Coach holidays give you a close-up view of some of Europe's most remarkable destinations that other forms of travel simply can't match.
From Italy's historical hotspots to Germany's most advanced and remarkable cities, these five destinations from Shearings Holidays are the perfect places to visit on your coach holiday through the Continent.
1. Munich
Bavaria's largest city is a feast for the eyes, with some of Germany's most beautiful historical buildings. Thanks to a conservative rebuilding effort after World War II, the city of Munich boasts an amazing historical layout that's lasted for centuries.
Visit some of Germany's most impressive 19th century buildings on Briennerstraße, one of the city's famous avenues. Nearby Ludwigstraße is home to amazing Italian renaissance buildings that will attract history gurus and passionate photographers.
Internationally famous for the annual Oktoberfest, Munich fills up with visitors late in September. Because of this, it's best to plan your trip to Munich during the city's lighter tourism season, unless you plan on taking part in the festivities.
2. Venice
Known as one of the world's most beautiful cities, Venice is one of Europe's travel hotspots. Boasting some of Italy's finest historical buildings and a romantic feel, no trip to Italy is complete without spending at least a few days exploring Venice.
Venice is home to some of Italy's most impressive churches, including the famous St. Mark's Basilica. The impressive historical cathedral attracts thousands of visitors in peak season, making it essential that you arrive early to view the church itself.
Of course, no visit to Venice would be complete without a journey through the city's beautiful canals. Call a gondoliere and ask for a quick tour, but be sure to haggle for a reasonable price before you step onto the boat.
3. Lake Bled
Slovenia is full of incredible scenery, and Lake Bled may be its finest treasure. This incredible glacial lake is known for its remarkable blue water, picturesque central island, and stunning mountain scenery.
In the centre of Lake Bled, you'll find Bled Island – a small island that's home to the beautiful 17th century Assumption of Mary church. Nearby Bled Castle offers great views of the lake, as well as a rewarding experience for visiting history gurus.
4. Cologne
Germany's fourth largest city is one of the Rhine region's true gems. Home to some of Germany's finest historical buildings, beautiful riverside environments, and rich local culture, Cologne is one of Germany's most rewarding coach destinations.
Thanks to its location on the Rhine, Cologne is a popular starting point for tours on the river. Kölner Dom – a remarkable cathedral in central Cologne – offers amazing views of the central city for those willing to brave the 509-step walk up its tower.
Widely regarded as Germany's western cultural hotspot – its eastern counterpart is Berlin – Cologne is home to some of Germany's best cultural events. In winter, you'll be able to take part in the famous Kölner Karneval (Cologne Carnival).
5. Berlin
One of Europe's most multicultural cities, Berlin offers an experience that isn't to be missed. Home to hundreds of museums and cultural sites, Berlin is a city that offers something new every day for both visitors and its millions of residents.
History enthusiasts will appreciate Museumsinsel – a small island filled with amazing museums. The island's museums cover European history from the Roman days until the modern world, offering a remarkable learning experience for visitors.
Aside from its remarkable historical and cultural sites, Berlin is home to some of the best restaurants, bars, and cafés in Europe. Enjoy a currywurst while you soak in the city's amazing scenery, or stop by one of the many great restaurants in City West for a more rewarding meal.