Buenos Aires as the capital city of one of South America's most impressive countries is pretty much a must for anyone contemplating taking holidays in Argentina. It is undeniably South American, yet its rich colonial heritage means that Buenos Aires manages to fuse European elements of Paris, Rome and Madrid with its passionate, chaotic heart. Below we've pick out five of our favourite things to do and places to see.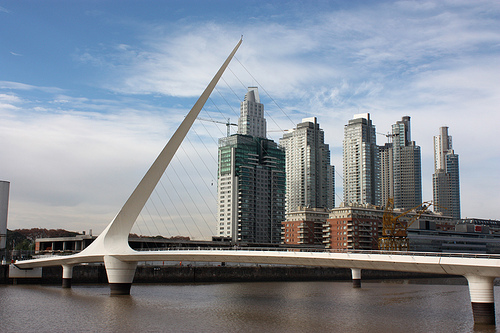 Photo source
Avenida 9 de Julio
This avenue comprises of roughly eight lanes of traffic (although some of the roads that run parallel are strictly speaking separate roads). It runs through what can be described as the centre of Buenos Aires and is a very useful fulcrum around which tourists can get a sense of direction. Crossing from one side to another is an activity in itself – as it's virtually impossible to do it all in one go. Perhaps its most impressive picture postcard stop along the avenue is the Obelisk of Buenos Aires at the intersection with Avenida Corrientes, where at night time many tourists open the exposure settings on their cameras to capture the bright lights that mark the area out. From here it is also very easy to reach the Plaza de Mayo and Casa Rosada – two of the most iconic landmarks in Buenos Aires.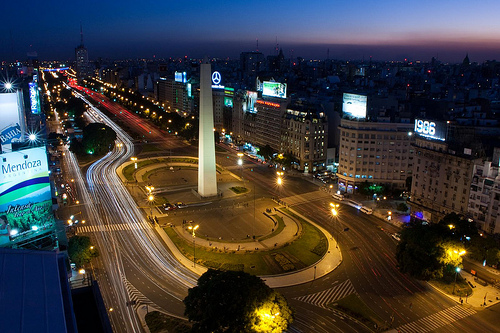 Photo source
Steaks
Argentina is world famous for its beef and heading out for a steak in Buenos Aires is a must. As with any large city, it is possible to find dining options that range from bank breaking high-end to thrifty cheap and cheerful. For a slap up meal, we would suggest the Puerto Madero area especially during the day and at the less dear end of the spectrum, San Telmo has a number of busy restaurants offering up the finest rumps and rib eyes in South America.
[adsense]
Recoleta
This district is one of the most affluent and culturally important in the whole city, and is very popular with tourists. One of the principal attractions is the cemetery where several large tombs belonging to wealthy Argentine families can be found – the most notable of all belonging to Eva Peron – perhaps the most famous Argentine woman of all time. A stroll around the area allows visitors to take in the parks, which have a lot going on during the weekend, the university buildings, the equally impressive embassy buildings and the always interesting MALBA or Museo de Arte Latinoamericano de Buenos Aires. There are a number of other museums, restaurants and cafes to while the hours away in this region of the city.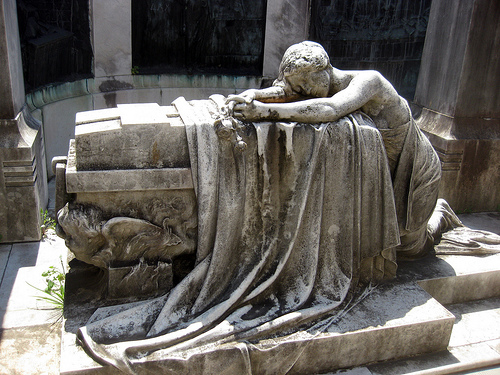 Photo source
Boca
Almost as a polar opposite to Recoleta, Boca is one of the poorer regions in Buenos Aires. Tourists are advised not to stray far from the well known streets or travel there other than with someone who knows where they are going. However, with its brightly coloured buildings and being the home of Boca Juniors football club, many tourists will take the trip down there to get a taste of a different side of life in Buenos Aires. If you are heading to the football, you are in for an intense experience, especially should they be playing local rivals River Plate.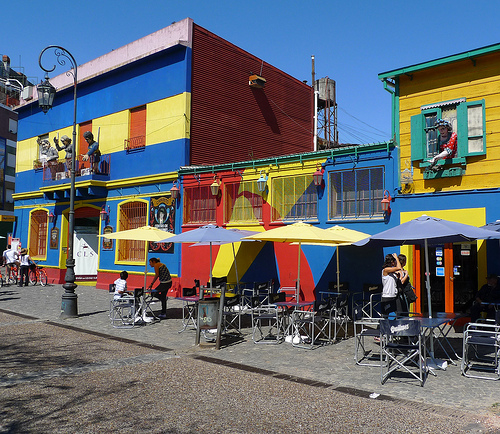 Photo source
Nightlife
As big or capital cities go, Buenos Aires puts its rivals to shame when it comes to late night antics. Things tend to happen late, very late. It is normal to hit the pre-club bars at anytime from about 10pm til midnight and then think about moving onto the clubs from about two in the morning. The city attracts big name DJs to its mega clubs such as Pacha and Crobat, while all night disco parties can be found in pretty much any other part of the city.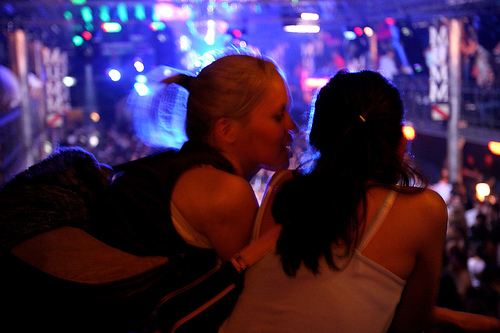 Photo source
About the author
Ed is an aspiring travel writer with interests all over the world including Peru, Argentina, Brazil and much of Europe.