p>When you set out for the perfect beach destination, Cancun is one of the top choices world-wide. With plenty of hotels right on the beach, water sports to choose from, and historical and cultural attractions of the Yucatan Peninsula, there is no wonder this Mexican vacation spot is so popular. All you need for the best vacation in the world–other than the often cheap and always accommodating Cancun hotels–is a spa to help you relax and feel energized. For those who enjoy exotic treatments and massages at the spa, here are the top five hotel options in Cancun.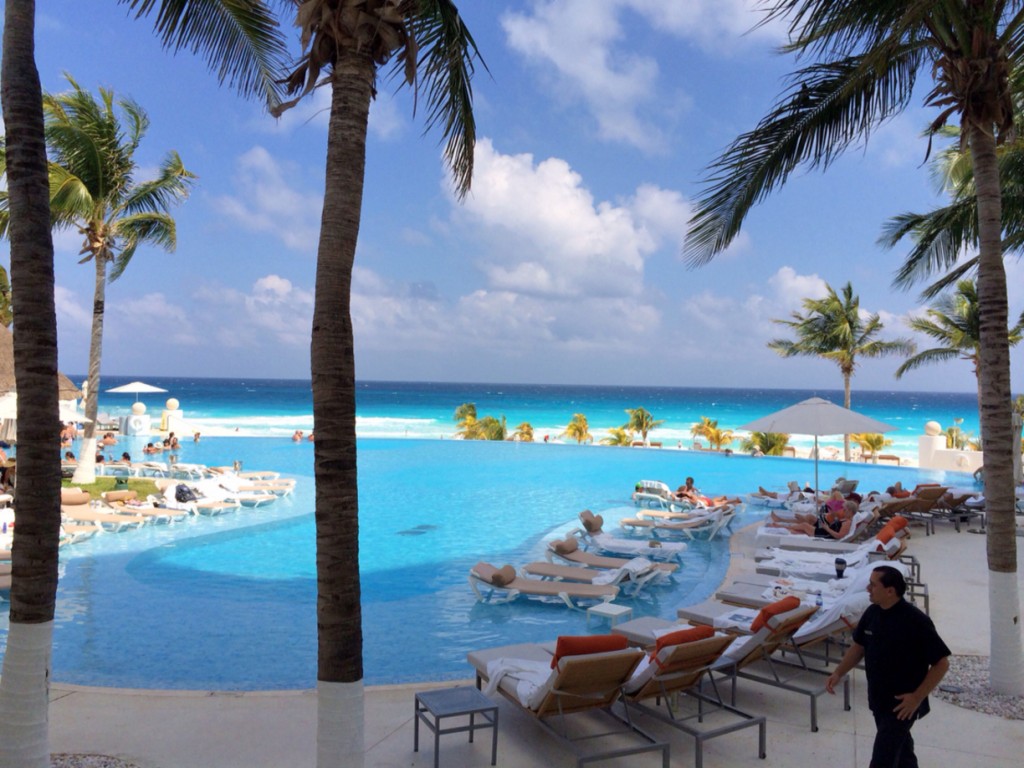 Photo by Algirdas Sidiskis via Trover.com
This hotel is exactly what the name says, an all-inclusive experience right on its own private beach. The Hyatt Zilara Cancun Spa and Resort provides round-the-clock services to ensure a relaxing getaway. Close to La Isla Shopping Mall and Acuario Interactivo, the Cancun Golf Club at Pok Ta Pok, Playa Chac Mool, the Hyatt Zilara Cancun also has a full-service spa where you can book treatments of all kinds from facial to relaxing massages, and three outdoor swimming pools to cool off.
Located on one of the most sought-after beaches in Cancun and overlooking the Isla Mujeres, Fiesta Americana Grand Coral Beach Cancun Resort & Spa provides all the comfort of a private beach resort at affordable rates. All the 602 suites have some form of an ocean view. The hotel's GEM Spa is where guests can relax before or after attending a yoga or pilates class, or water sports such as scuba diving, snorkeling or sailing.
Located in the furthermost corner of Cancun's Hotel Zone, the Westin Resort & Spa Cancun offers a quiet getaway while still keeping its guests very close to this destination's vibrant nightlife. Providing extensive spa services and tennis courts to work off the copious restaurant meals, this hotel caters to couples, families, and the solo traveler who seeks the rejuvenating effects of the spa treatments.
The CasaMagna Marriott Cancun Resort has it all: a fitness center, spa services, year-long accommodation, and major tourist attractions right next door. Tulum Mayan Ruins, Xcaret Ecological Park, Aquaworld, and Cozumel Island are all within reach, along with tennis courts, golf clubs, horseback riding spots, and all the water sports and beach activities you can think of. Although a budget-friendly hotel, CasaMagna Marriott Cancun Resort provides all the luxury and pampering you need with spacious suites, ocean views, fine dining, and the beach only a few steps away.
Conveniently situated between the airport and downtown Cancun, the Crown Paradise Club Cancun All Inclusive overlooks the Caribbean Sea. It's a private paradise full off possibilities – pampering at the spa, windsurfing, or lounging by one of the five pools. It offers a wide choice of culinary delights and is right next to shops, nightclubs, and Cancun's archeological sites.