Finding the history hot spots that mark the passage of the Romans through London is not the easiest task, even if you're good with a map and have a general idea on where everything is in the UK capital. To help tourists with an interest for ancient ruins locate London's Roman legacy faster, the Museum of London has created a free app for iOS based smart phones and tablets called Streetmuseum Londinium. Once you've installed it on your iPhone, iPad or Android gadget, you will easily find your way to sites built between 43 A.D. and the 5th century.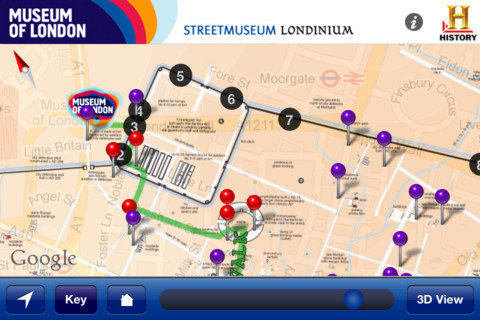 Should you need a glimpse into the heritage of Roman historic attractions before visiting them, the Streetmuseum Londinium app offers about 200 images of artifacts exhibited within the museum. You can also share these pictures on Twitter or Facebook, to get others interested into the remainders of the Roman empire within London. It also includes audio and video streams which recreate Roman life and events, a nice touch financed by the History television channel that travelers can enjoy during their tour of a particular site.
The app overlays a Roman-era map of the old City of London and Southwark onto the most recent Google Map of the British capital, thus enabling travelers to get easy directions through their GPS tools. Streetmuseum Londinium will swiftly take you to the Temple of Mithras, the Roman amphitheatre, forum and basilica or to the Cripplegate Fort. To view the artifacts found at a particular ancient site, all you have to do is rub the spot on the map to have the images pop up.
[adsense]
"The app is going to tell people about so many different aspects of Roman life, from what sort of underpants Romans wore, to how they were buried, to how they lit their homes, to what sort of food they ate," Roy Stephenson, head of archaeological collections at the Museum of London told Reuters.
The app has been released ahead of a big fundraising effort which aims to get the money needed to renovate the museum's Roman gallery. To download the Streetmuseum Londinium iOS app, go here.