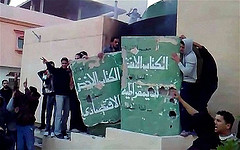 Two of Europe's greatest power players, Britain and France are attempting to obtain UN authorisation for a no-fly zone over Libya due to air-strikes against Libyan rebels by Gaddafi's warplanes.
Currently in Libya two towns populated by ordinary civilians, Misrata and Zawiyah, are surrounded by forces loyal to Gaddafi. According to Al Jazeera, the rebels have rejected Gaddafi's offer to hold discussions regarding his stepping down from power.
UN aid coordinator Valerie Amos said more than 1 million people fleeing or inside the country need humanitarian aid. 'Humanitarian organisations need urgent access now,' she said. 'People are injured and dying and need help immediately.'
The UN wishes to fund a 3 months humanitarian operation consisting in providing food, shelter and medicines. The estimated sum would be 160 million US dollars.
According to William Hague, British Foreign Secretary, the UK is working closely with its partners 'on elements of a resolution on a no-fly zone, making clear the need for regional support, a clear trigger for such a resolution and an appropriate legal basis'.
As France is working on a no-fly zone resolution over Libya, the Gulf states have called for an urgent Arab League meeting and also motioned for the establishing of a no-fly zone over Libya.
However, opinions seem to be divided as Russia, a permanent UN Security Council member, with the power to veto, is against foreign military intervention in Libya. On the other side, the White House is currently debating all possible options. At the moment, the only palpable measure was a 24-hours AWACS surveillance operation that has been launched by NATO
NATO Secretary-General Anders Fogh Rasmussen has stressed the need for UN authorisation. 'I can't imagine the international community and the United Nations would stand idly by if Gaddafi and his regime continue to attack their own people,' he said.
US President Barack Obama said he wants to 'send a very clear message to the Libyan people that we will stand with them in the face of unwarranted violence and the continuing suppression of democratic ideals'.
In the mean time, Misrata and Zawiyah remain in the hands of the rebels, but due to shortage of medical supplies and facilities, the many wounded are being treated on hospital floors.
Photo source (via AFP/Getty Images)