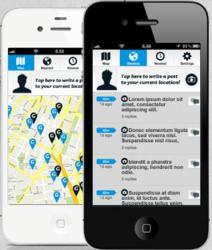 Generally, when hearing the concept of a location-based app that allows users to post photos and tips about where they are, one thinks of the technology's many benefits to the travel community. But apparently there's more to such a 'world-marking' (location-based bookmarking) app than the social and travel aspect – it might prove to be the right tool to help law enforcement across the world make neighborhoods, cities and countries safer.
The recently released beta app Grafeetee has just made the news as it's currently being tested by the Police of Finland as a tool to help them engage the community to send tips and alert them whenever needed. It seems like a great way to collaborate on making Finnish neighborhoods and tourist destinations safer. 
Grafetee users can easily alert the Finnish police officers in real time of incidents in their area, no longer needing to make a phone call. With a simple tap, citizens and travelers to Finland would report a crime in progress or a situation that is bound to degenerate. At the same time, users can easily see alerts posted by the police and their requests for help.
"We're extremely excited to have the Finnish Police on board. Their testing and the ensuing refinements to the app will help us create truly useful location based services on our Grafetee platform," said Co- Founder and CEO of Grafetee Juha Huttunen.
This test will go on for a month, giving the Finnish police sufficient time to analyse and evaluate the results of using Grafetee in fighting crime.
[adsense]
The benefits Grafetee could generate for law enforcement are interesting, but certainly not the only ones that recommend this app. Available for both Android and iOS, Grafetee is quite useful for travelers, to help users find and label businesses, and especially for businesses that want to let people know of their location and/or events.