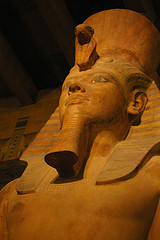 Tourists with an interest in the pharaonic history of Egypt and the artifacts that still sparkle our imagination will cheer at this piece of news: Egypt authorities have started restauration work on the artifacts damaged in a raid on the Egyptian Museum, according to Reuters.
Zahi Hawass, the museum's head of antiquities, told Reuters no artifacts had been stolen in the break-in at the museum that took place two weeks ago during the mass protests against President Hosni Mubarak's regime. In the break-in aftermath, the museum representatives discovered 25 objects in need or restoration work, including a statue of King Tutankhamun, part of the treasures discovered in his tomb in Luxor's Valley of the Kings.
"We started the restoration two days ago. In three days, all these monuments will be completely restored," Hawass stated. The museum had in part been saved by the fact it was night-time when the robbers broke in, Hawass said. They had stolen gold souvenirs from the museum shop. "Thank God the museum was dark and they could not see anything," he said.
He also praised the Egyptian anti-government protesters who had stood guard outside the museum and caught some of the thieves as they tried to get away. The museum was the only building thieves broke into. Although the locks on the gates of tombs at the Saqqara pyramids south of Cairo were found broken, it appeared nobody had entered.
Hawass told Reuters the authorities had not yet decided when the pyramids would be reopened to the public. The Supreme Council for Antiquities, that need ticket sales to generate revenues, is now looking for new ways to make money. Two options that seem feasible are to either stage more exhibitions overseas, or to produce replica artifacts for sale. Either way, Hawass stated he was not expecting a quick recovery in Egypt tourism.