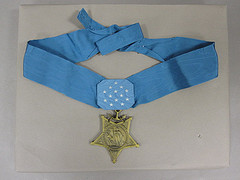 US air carrier American Airlines announced it will celebrate the 150th anniversary of the Medal of Honor by rewarding those who have received the country's highest military honor for valor in combat against an enemy force. To honor the veterans who received it, American Airlines will fly a group of them from New York to Washington on the National Medal of Honor day, which is March 25th.
The veterans will attend a private luncheon and will be recognized at the Medal of Honor Day ceremonies in DC. The veterans will travel in an aircraft honoring their special status – American's yellow-ribbon 737 aircraft, Flagship Liberty.
"To receive the Medal of Honor speaks volumes about the courage of these heroes, and sacrifices they have made for the freedoms we enjoy in this country," said Gerard Arpey, American Airlines Chairman and CEO. "Equally important, they epitomize the concept of service above self. All of us at American Airlines express our deepest appreciation and gratitude to all Medal of Honor recipients who have achieved this distinction in defending our great nation."
Only 3,500 veterans have received a Medal of Honor of the over 40 million who have served since the Civil War.
"Each year on National Medal of Honor Day — a day set aside for these heroes — we are reminded of their valor and selflessness," said Nicholas B. Kehoe, President of the Congressional Medal of Honor Foundation. "Thanks to the generosity of American Airlines, these extraordinary service members will be recognized today at the nation's Capitol and during all of their travels on American Airlines."
In order to reward all living Medal of Honor recipients throughout the year, they will all be presented with the airline's AAdvantage Executive Platinum® membership, ConciergeKey status and Admirals Club memberships. AAdvantage Executive Platinum status, AA's highest level grants access to benefits such as complimentary upgrades, elite mileage bonuses, special reservations assistance, and airport and AAdvantage award travel benefits. Admirals Club membership will grant them access to about 40 airport lounges from across the world, all offering Wi-Fi, cyber cafes, snacks and beverages, music rooms and business centers with high tech gear such as PCs, copiers and global printing.