Remember when you were a kid and you wanted nothing more than a treehouse in your back garden?  Or maybe you had one and it was your favourite place to spend time.  Perhaps you have kids, and this is their dream.  Whatever the case, treehouse accommodation is the adult version of that dream and there are some amazing examples around the world.  Here are five of our favourites.
Kinlochlaich Treehouse
Kinlochlaich Treehouse sits in an 18th-century orchard close a river near Appin, Argyll.  It is the classic treehouse style with lime rendered walls, a slate roof and an octagonal shape.  The structure won the UK Master Builder award for bespoke craftsmanship and even uses a whole oak tree as the centre support, right through to the roof.
The treehouse has decking outside to enjoy the woodland reviews and has a single bedroom that sleeps two adults and two kids, so ideal for a family getaway.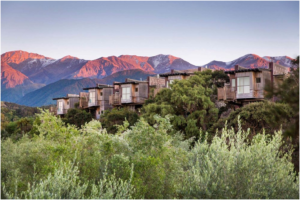 Hapuku Lodge
Hapuku Lodge is one of the Treehouse accommodations on Host Unusual that is the furthest from home and is definitely worth the trip.  Located near Canterbury, New Zealand, this eco-friendly paradise features a lodge and a series of treehouses with amazing coastal views.  The treehouses are made from responsibly sourced timber and sit amid a deer breeding farm close to Mangamaunu Bay, a renowned spot to visit.
Each treehouse sleeps two and has an en-suite bathroom, Jacuzzi, mini-bar and balcony.  There are also family treehouses that sleep an extra two in the smaller bedroom.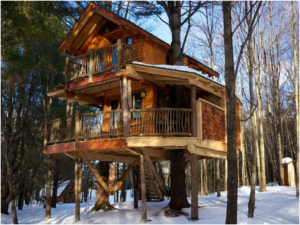 Moose Meadow Lodge and Treehouse
Moose Meadow Lodge and Treehouse is found near Waterbury, Vermont in the USA and is an impressive two storey treehouse beside the lake.  It has an impressive 4000 square feet of living space and is set in 86 acres of mountain land so there are few neighbours to worry about.
The treehouse sleeps two with space for two guests and there is a private bathroom, custom sink and shower, fully equipped kitchen and a wood fire.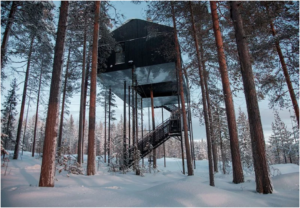 Treehotel
If you love treehouses but want something a little more modern, the Treehotel in Harads, Sweden might be perfect.  This architect-designed Lapland hotel has amazing views and contains seven different cabins, each with their own facilities.  The hotel uses hydroelectricity and low LED lighting to add to the eco-friendly nature of the hotel.
Each cabin is unique and designed by a different architect with its own theme and amenities and sleep between two and five people.  Every treeroom has its own private setting with underfloor heating, amazing views out across the Lule River Valley and access to Brita's Pensionat restaurant.  If you go at the right time of the year, there is also the chance of seeing the Northern Lights as well as a range of other winter activities as the location is only 50km south of the Arctic Circle.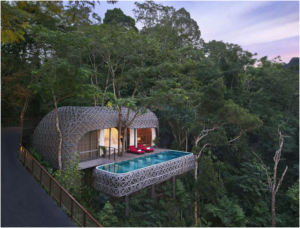 Keemala
Keemala is on Phuket Island in Thailand and offers the ultimate tropical paradise treehouse combination.  There are four different treehouses to choose from.  Tree Pool Houses sleeps two and has a private bathroom with monsoon shower, dining area and outdoor terrace with pool.  Birds Nest Pool Villas also sleeps two and has the private pool and outdoor terrace as does Tent Pool Villas.  Clay Pool Cottages is larger, sleeping up to four people and includes outside shower, bathroom amenities, larder, interactive LED TV and the outdoor terrace with private pool.
Serving the treehouses is the Mala Restaurant which uses local produce and also offers champagne picnics to enjoy in the park.  local activities including swimming, surfing, diving, snorkelling and just relaxing on the beach.  Don't forget to do a little wildlife spotting while you are up in the treehouse too.