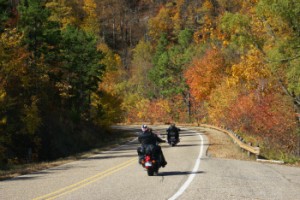 Experiencing the open roads on a motorcycle is a fun and adventurous way to travel and see the world. Cruising along winding backroads during fall is exactly the thing that most motorcyclists dream of. Also, the weather will be perfect for your favorite leather jacket, chaps and gloves. Planning ahead can ensure you will have a safe and fun trip to add to your treasured vacation memories. There are a few things to consider when planning a fall motorcycle trip.
Packing for Your Trip
You will need to consider what necessities you might need when packing. Packing for a motorcycle trip is a little trickier than packing for a car trip. Unless you invest in some motorcycle storage bags, you will have limited space for your essentials. Clothing should be packed in layers. Therefore, as it gets warmer during your travels you can shed clothing and vice versa. Remember to include rain gear and a safety repair kit should you experience a flat tire or other emergency.
Make Sure Your Motorcycle is Safe
Just as you would check your car before a long trip, you should also check your bike. Performing a thorough inspection of your motorcycle will reduce the chances that you will be stuck on the side of the road or be involved in an accident. Our Atlanta personal injury attorney recommends following the Motorcycle Safety Foundation's T-CLOCS Inspection Checklist:
[adsense]
T – Tires (inflation, wheels, brakes)
C – Controls (pedals, levers, cables, hoses, throttle)
L – Lights (battery, lamps, signals, lenses, reflectors, wiring)
O – Oil (levels, leaks)
C – Chassis (frame, suspension, fasteners, chain or belt)
S – Stands (center stand, side stand)Â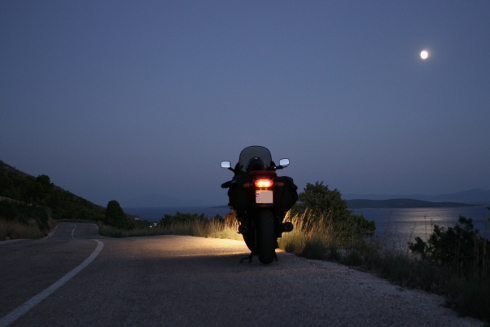 Preparing for the Fall Roads
Weather – Since the weather can change quickly in fall, it is important to check the forecast often. Also, if riding in the morning, remember to reduce your speed in shady areas and on bridges since frost may not have melted yet.
Wildlife – Deer and other wild animals are more active in fall, especially near dawn and dusk. In rural areas you should always stay on the lookout for animals and scan the shoulders ahead of you.
Leaves – The beautiful fall leaves can present special hazards for riders. Not only are these gorgeous colors a distraction for other drivers that you need to be aware of, but driving through a pile of leaves, even if they appear dry on the surface, can reduce your traction. Since the fallen leaves can make the roads particularly slick, be sure to reduce your speed and avoid the sides of the road where underlying leaves may still be wet.
Make Others Aware of Your Travel Plans
The thought of taking your bike for one final long road trip is exciting. However, you need to put your safety first. This means that you need to let others close to you know your travel plans. Check in with them periodically throughout your trip to assure them that you are safe and your trip is going as planned. It is nice to think that your trip will go as planned and turn out perfectly, but it is best to be prepared for unforeseen situations.
Taking a fall road trip on your motorcycle can be one of the most amazing events that you experience. You just need to make sure that safety is your number one priority. Once you plan your trip with these tips in mind, you will be able to enjoy the scenery and cooler temperatures knowing you are prepared for anything that may come up.
 
About the author
Shelby Warden is a legal researcher and a regular contributing author for the Atlanta personal injury attorney team at Buddoo & Associates. Clients who come to the firm speak highly of their commitment and dedication to fighting for the rights of injured clients and their families. The firm operates on a contingency fee basis, and can come to you if you are unable to travel.