This post has been originally published by Hipmunk's Tailwind blog on November 11, 2015.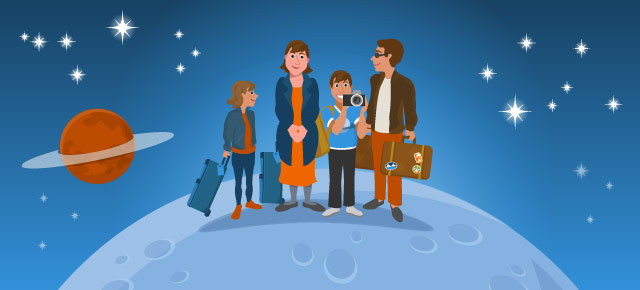 By: Hipmunk Staff
There's nothing under the sun that captures the imagination quite like outer space. With the discovery of water on Mars, the meteoric rise of Matt Damon's new film, "The Martian", and the impending release of the new Stars Wars flick, the universe has been, well, everywhere lately.
Back here on the earth, the closest most of us mere mortals will come to outer space is a visit to one of America's NASA-run Space Centers: the Johnson Space Center, located in Houston, TX, and the Kennedy Space Center, in Cape Canaveral, FL. We wondered, which Space Center location's vacation price is down-to-earth and which one is other-worldly expensive? 
To find out, we analyzed our 2015 data for average flight prices to each center's nearest airport from the 30 most popular airports in the U.S. and daily car rental prices, in addition to the average prices for hotel stays in Houston and Cape Canaveral. We also looked at the average ticket prices and, just for fun, how much it would cost to eat lunch with an astronaut, a program offered at both locations.
Here's what we found it would cost, on average, a family of four for a 3-day, 2-night trip: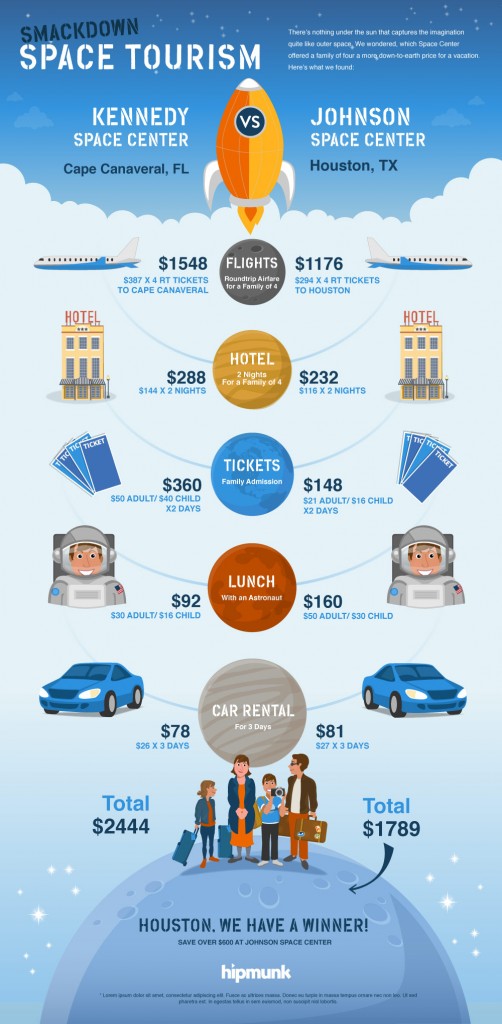 In other words, a family of four can save an average of $600 by choosing Space Center Houston over Cape Canaveral, most of which is saved through airfare and Space Center admission prices. Here's how that breaks down, per person:
While this may appear like pretty steep price tag for a short vacation, both centers offer numerous discount opportunities and are generally all-inclusive. For example, Kennedy Space Center admission includes all exhibits and shows, IMAX space films, the Kennedy Space Center Bus Tour and free next-day admission to the U.S. Astronaut Hall of Fame when a general admission ticket is purchased. Multi-day packages that can reduce the overall price are also available.
Meanwhile, Space Center Houston offers a CityPASS if you plan to visit other Houston attractions, which allows visitors to save 50 percent on admission to Space Center Houston and four more top Houston attractions: 1) Downtown Aquarium, 2) Houston Museum of Natural Science, 3) Houston Zoo or Museum of Fine Arts, and 4) Houston Children's Museum or Kemah Boardwalk All-Day Ride Pass. You'll skip most ticket lines, too.
So while Space Center Houston is inarguably the less expensive of America's two NASA centers, both locations offer multiple opportunities to let your imagination (and inner-astronaut) be free from gravitational pulls for a few days.
Blast off about your Space Center story in the comments below!
Methodology: Hipmunk analyzed 2015 data for average airfare prices to MLB and IAH from the 30 most popular U.S. airports, as well as average nightly hotel prices in both Houston and Cape Canaveral. Car rental prices were the lowest recent price posted on Hipmunk.com departing and returning to MLB and IAH, respectively. All other data was found on each Space Center's website. As always, airfare, hotel, and car rental prices frequently change and Hipmunk does not guarantee that the prices listed in this story reflect what is currently available.