Looking to escape to a picturesque island paradise? Look no further than Paros, Greece. With its stunning beaches, charming villages, and rich history, Paros is the perfect destination for a memorable island holiday. As an expert in travel, I highly recommend exploring this hidden gem of the Cyclades.
One of the highlights of visiting Paros is discovering your ideal villa. Whether you're seeking a luxurious retreat or a cozy beachfront cottage, Paros offers a wide range of accommodation options to suit every taste and budget. Imagine waking up to panoramic views of the azure Aegean Sea from your private terrace or enjoying a refreshing dip in your own pool surrounded by lush gardens. With countless villas available for rent, you can find the perfect home away from home on this enchanting island.
The Most Beautiful Beaches in Paros
Main Beaches For Sunbathing
When it comes to sunbathing, Paros Island offers a plethora of stunning beaches where you can soak up the warm Mediterranean rays. Whether you prefer secluded coves or bustling shores, there is a beach for everyone's taste. Here are some of the top beaches on Paros:
Santa Maria Beach: Located on the northern coast of the island, Santa Maria Beach is renowned for its crystal-clear turquoise waters and golden sand. This popular beach offers various amenities including beach bars, sunbeds, and water sports facilities.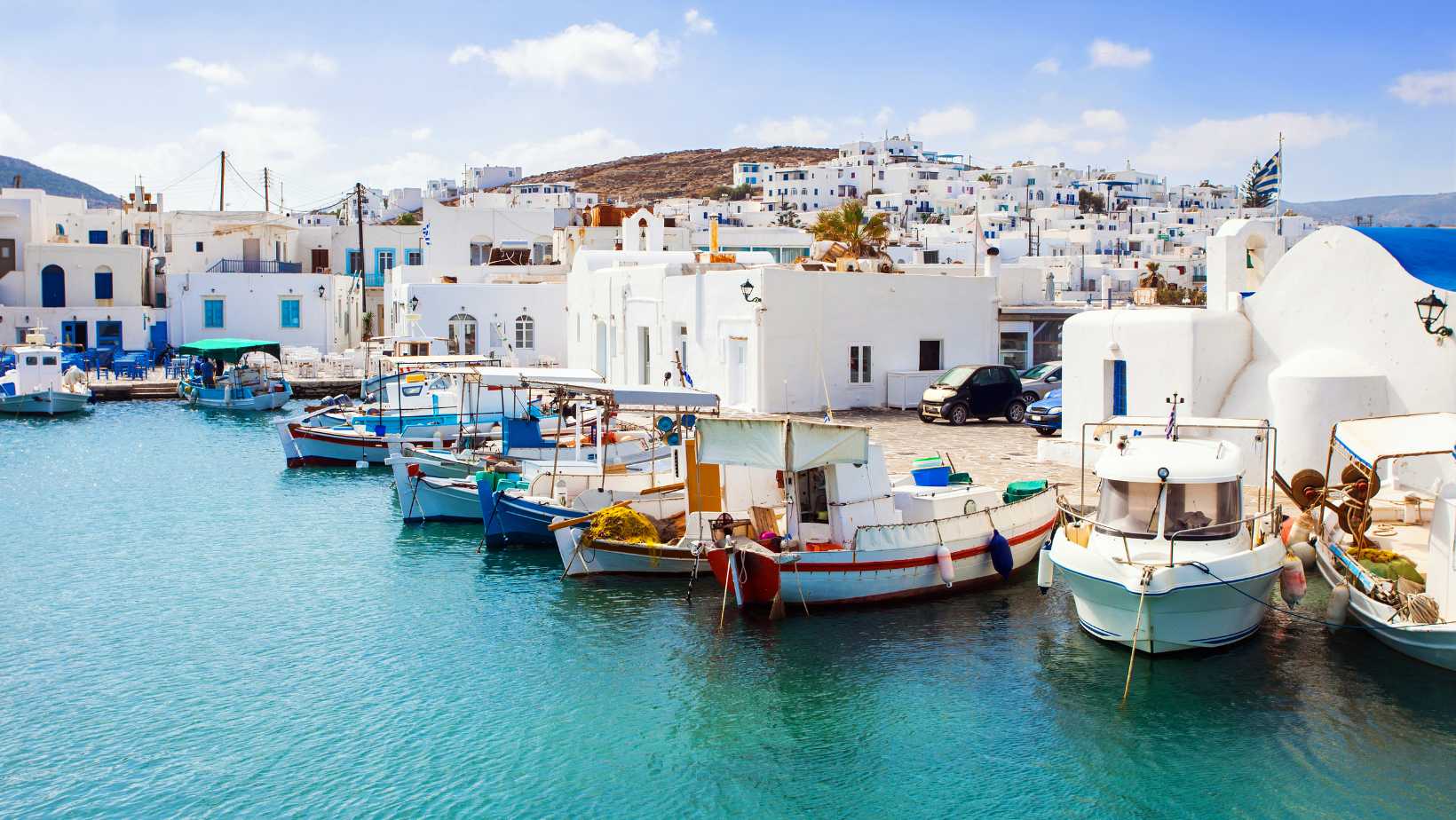 Golden Beach (Chrissi Akti): As the name suggests, this long stretch of sandy shoreline boasts golden sands that attract sun-seeking visitors from around the world. It's an ideal spot for families and water sports enthusiasts alike, with ample space to relax and enjoy activities such as windsurfing and kiteboarding.
Kolymbithres Beach: Situated in Naoussa Bay, Kolymbithres is famous for its unique rock formations which have been sculpted by nature over time. These intriguing rock formations create small coves and natural pools perfect for swimming or simply admiring their beauty while catching some rays.
Beachfront Restaurants And Bars on Paros
After a day of sunbathing or engaging in water sports activities, indulge in the vibrant beachfront dining scene on Paros Island. Treat yourself to delicious Mediterranean cuisine while enjoying breathtaking views of the sea:
Naoussa Harbor: This picturesque fishing village is lined with waterfront restaurants offering fresh seafood dishes that will tantalize your taste buds. Savor grilled octopus or traditional Greek mezes as you watch the sunset over the harbor.
Aliki Beach: In the charming village of Aliki, you'll find a selection of tavernas serving mouthwatering seafood specialties right on the beachfront. Enjoy a leisurely meal accompanied by panoramic views of the Aegean Sea.
Piso Livadi: This coastal town boasts several seaside eateries where you can relish delectable Greek cuisine while overlooking the crystal-clear waters of the bay. Don't miss out on trying local delicacies like souvlaki or moussaka paired with a glass of refreshing ouzo.
Whether you're seeking relaxation under the sun, thrilling water sports adventures, or culinary delights by the sea, Paros Island has it all. With its diverse range of beaches catering to various interests and preferences, there's no doubt that this Greek gem is an ideal destination for your next island getaway.
Discover your ideal villa in Paros Island today and embark on an unforgettable holiday surrounded by stunning beaches and captivating experiences!
Exploring The Charming Villages of Paros
When it comes to island holidays in Paros, Greece, one cannot miss out on exploring the charming villages that dot this picturesque destination. From traditional whitewashed buildings to narrow cobblestone streets, each village in Paros offers a unique glimpse into the rich history and culture of the island. So, let's embark on a virtual tour and discover some of the most enchanting villages that will make your stay in Paros truly unforgettable.
Naoussa: Located on the northern part of Paros, Naoussa is a postcard-perfect fishing village that exudes both charm and sophistication. Stroll along its vibrant harbor lined with colorful fishing boats and indulge in fresh seafood at one of the waterfront tavernas. As you wander through its labyrinthine alleys, you'll stumble upon quaint boutiques selling handmade crafts and local treasures. Don't forget to visit the Venetian castle ruins perched above the town for panoramic views of Naoussa's idyllic beauty.
Lefkes: Nestled amidst lush green hills in the heart of Paros lies Lefkes, a traditional mountain village that transports you back in time. Immerse yourself in its serene ambiance as you meander through narrow pathways adorned with bougainvillea-covered houses. Marvel at its well-preserved neoclassical architecture and visit Agia Triada Church, an 18th-century Byzantine gem that stands proudly at Lefkes' center. From here, take a leisurely hike along ancient footpaths to explore breathtaking landscapes dotted with olive groves and vineyards.
Parikia: Serving as Paros' capital and main port, Parikia seamlessly blends modern amenities with historical landmarks. Begin your exploration by wandering through its labyrinthine streets lined with boutique shops selling handmade jewelry and locally crafted souvenirs. Admire the iconic Panagia Ekatontapiliani, a Byzantine church believed to date back to the 4th century, and explore the Archaeological Museum of Paros for a deeper understanding of the island's past. End your day with a leisurely stroll along Livadia Beach, soaking in the mesmerizing sunset views.
With each village offering its own unique charm and character, exploring Paros' enchanting villages is an essential part of any island holiday experience. So go ahead, discover your ideal villa in Paros Island today and immerse yourself in the captivating beauty that awaits you!