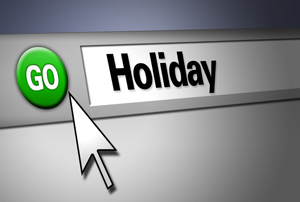 Booking trips through online travel agencies is quickly gaining ground, making traditional travel agents obsolete. Recent data shows only 1 in 10 Britons will book their annual trip through an agent, the vast majority preferring online service: 66% of Britons state they will book through an online travel agent for their 2012 holiday.
Fresh research by TravelSupermarket revealed that just 14%of Britons intend to book their trip over the telephone and only 11% will visit a high street travel agent to book their holiday. In what research to decide where to go in 2012, only 12% of those surveyed would visit a shop to pick up brochures and discuss about destinations with an agent. An overwhelming 52% would rather use internet search engines and another 40% would check review websites like TripAdisor.
"Purse strings are tight for many in 2012," said travel expert from TravelSupermarket, Bob Atkinson said. "'The internet makes researching our holiday so much easier. Review sites are growing in popularity as holidaymakers trust the opinion of their peers, and Brits are getting better at using the internet to compare prices and get the best deal."
The numbers should worry traditional agents, as 96% of Britons plan to take a holiday this year and estimate researching it would take two to four week. With most of them favoring online services, Thomas Cook might not be the only company facing a dire end after a long lasting career in the travel sector.
[adsense]
When researching their next trip, one of the most important aspects for British travelers is to find low cost holidays (40%), a factor that plays a bigger part in decision making and purchasing than former kkey aspects, such as weather or accommodation options.
Spain is the most popular destination with 11 % of Britons already planning on heading there, followed, at quite a distance, by Italy with 3% and Portugal with 2%.