Haven't read Part I yet? Click here!
Historical sites are not the only thing Paris has to offer. Among my favorite places to visit was FNAC. FNAC is some sort of book superstore, but not only as it sells many other types of media. It is the mother of all bookstores, and in it I got lost for hours, simply not knowing which way to go, and not even caring. It was magnificent. My only regret was not having enough money on me to buy everything desired. It was there and then I was introduced to the concept of buying used books. In front of the store there were these large bins containing used books. They were very cheap and almost new. Well, you could see that they have been read, but still they were in very good condition and the prices were 75% lower than the retail price.
If you are bored with culture and site seeing, take a break and go have a cup of coffee and a bite eat at one of Paris's famous café's. Although it is the capital of one of the world's finest cuisines, Paris offers many choices, from all corners of the world. You may choose from French to Thai, Arabic or Vietnamese cuisine. The choice is entirely yours, but make sure you do not choose a location that is too much out in the open, on a main avenue. You will get ripped off. Take your time, browse around and look for a place that is not quite so public. For example, a cup of coffee on Champs Elysees can go up to 20 EUR.
The snack I enjoyed a lot in my trip there was a "galette". The galette is basically a crepe, made with rye flower, and filled with bacon, cheese and other such delights. It is delicious and light,the ideal lunch for a day of walking around.
After having lunch simply start walking around and enjoy the marvel that is Paris. Enjoy the city, not the cultural icon.
[adsense]
A when you do that make sure you go and enjoy the atmosphere of "Le Café du Commerce", a typical French bistro, situated in the 15tharrondisment (district 15).
Photo source
What should you do there? That's easy: Le Café du Commerce is a 3 level bistro that offers a magnificent view due to an enormous glass roof and an authentic French cuisine that will intrigue and delight your senses. A great collection of vintage advertising posters completes the décor.
As a trip to Paris is nothing if there is no shopping involved, make sure to visit the Lafayette Galleries, The Printemps and Le Bon Marché. If you have heard of the first two, I'm pretty sure the third one has escaped you. Le Bon Marché is a luxury store situated in VIème. It is the biggest department store on the Left Bank and at the same time the oldest department store in Paris, designed by Gustav Eiffel and opened in 1852. It specializes in luxury fashion for men, women and children but also furniture, upscale gifts and house ware.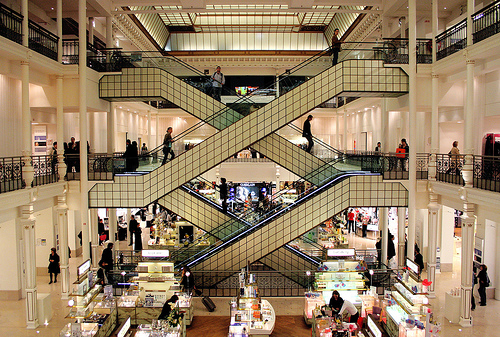 Photo source
A walk through "La place de Furstenberg" is a great way to end your day of enjoying Paris. It is situated in the heart of St-Germain des Pres, a Left Bank "chic adresse", and all around, you will find many prestigious fashion and designer stores, antique shops and fabrique vendors. The Musée Delacroix, the studio of the famous painter, Eugene Delacroix, is also located nearby.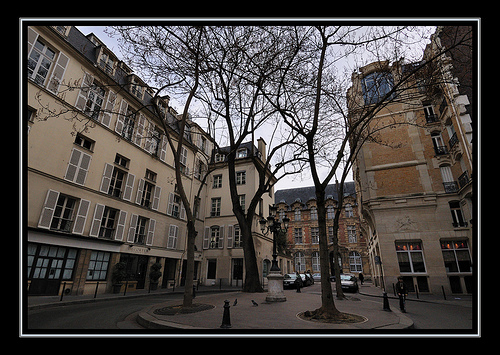 Photo source