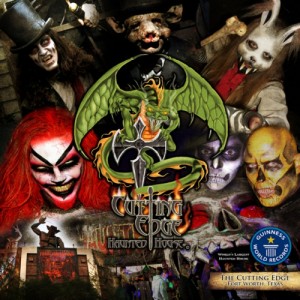 Valentine's Day is fast approaching and all over the world love will bring magic in the air for 24 sweet hours of sharing feelings, presents and tons of chocolate. Everybody is trying to surprise their better halves, their soul-mates to be, with luxury hotels, remote and intimate cabins, and high end restaurants and give the celebration a unique romantic twist. If the vast majority wants a romantic spot, an intimate place or a grand gesture such as beds of roses, diamonds, or a candlelight gourmet dinner, there are some that celebrate love with a touch of thrill and the macabre.
For these select few, we have discovered the spot-on Valentine's Day activity. Cutting Edge Haunted House is preparing a special approach for Valentine's Day, which they refer to as "twisted romantic alternative" to common celebrations for the day. Those visiting the haunted house from Dallas, Forth Worth on this special day will have a tour of the house lit only by candles.
The house is located in a 100 year old abandoned meat packing plant in a section of "Hell's Half Acre". The building's history is intertwined with frightening stories fueled by weired happenings that started with its very construction. The show reveals realistic human-like mannequins that go through the entire meat packing process and are returned as butchered corpses. The very credible and very frightening props used to decorate the horror tour make for a thrilling and scary hour that you will share with your soul mate and partner in adrenaline rush chasing.
[adsense]
Cutting Edge Haunted House is one of the scariest venues in the USA, highly popular after being mentioned in the Guinness World Records, Haunted House Ratings.com, Hauntworld Magazine, AOL, Yahoo, the Wall Street Journal, US Airways Magazine and many other travel magazines and websites.