Narrowing down the best diving sites in the world is difficult, given the sheer number of excellent locations that can be explored. However, in making this list, I've tried to make a representative survey of some of the most diverse, and the most unique in terms of features and difficulty levels.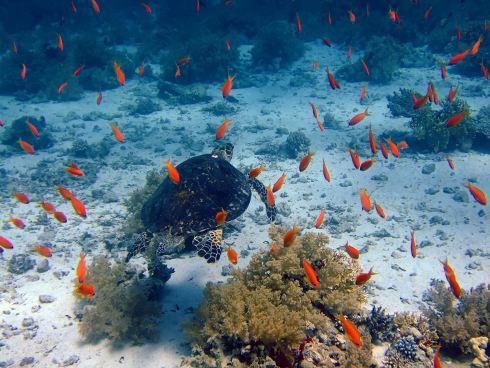 These sites range from perennially popular destinations like Barracuda Point to the Mariana Trench, and the clear waters of Sharm el Sheikh. Many of the best diving sites can also be found within key areas, from Malaysia and Thailand to the Caymans and South Africa, making it possible to visit several over an extended trip. Some of the best include:
1 – Barracuda Point
Located off the Sipadan Islands, one of the most popular diving destinations in the world, Barracuda Point is distinguished, as its name suggests, by large families of barracuda. A depth level of 15-20m can be achieved, with the waters containing coral reefs, sharks and green turtles. Barracuda Point's clear waters also make it ideal for underwater photography.
2 – Richelieu Rock
Found near to the Surin Islands in Thailand, Richelieu Rock is distinguished by its large number of whale sharks, and for its purple corals. The area is a popular destination for scuba divers and package cruises, and forms part of the Mu Koh Surin Marine Park in the sea North West of the island of Phuket.
Phuket itself is becoming an increasingly popular travel destination, as it allows easy access to the islands around it, while also accommodating a variety of diverse travelers. Consider booking your stay at a hotel in Phuket and exploring all nearby wonders. It has scenic beaches, historic, religious, and architectural landmarks, a thriving nightlife of bars, clubs, and cabaret shows, and much more. Adventure seekers enjoy scuba diving in Thailand, as it is one of the most popular places to explore marine life. Another popular activity you can try is the art of Muay Thai, which is Thai boxing. It is a physically challenging activity that many people in Thailand enjoy.
3 – Mariana Trench, Micronesia
As the deepest known point of the ocean, the Mariana Trench affords both high and extreme level dining. Its depths are believed to reach more than 11,000 feet. Commercial diving is possible using submarine craft to the highly pressurised lower reaches of the trench, with the potential to see some of the world's rarest sealife.
[adsense]
4 – Crystal Bay
This diving site near Bali is perhaps most well known for its number of rare Mola Mola Oceanic sunfish, and for its difficulty for more experienced divers. Strong downward currents make it a risky proposition for new divers, or those without supervision. Those that do dive the site can experience year round dives, as well as the chance to see octopi, whitetip sharks and seahorses.
5 – Elephant Head Rock
One of the more famous diving sites in the world, Elephant Head Rock is located within the seas around the Similan Islands. Part of a diverse mixture of plant life and corals, the Elephant Head Rock is one of the largest boulders in the region, and acts as a shelter for various examples of white and black tip sharks, as well as whale sharks.
6 – Rangiroa
This site in Polynesia links into the Tuamotu Archipelago near Tahiti, and is partly defined by its remoteness, and for its population of grey reef sharks and hammerhead sharks. The largest atoll, Tuamoto, in the Maldives can be found here, as can diving from a range of resorts around the archipelago.
7 – Little Cayman
Just off Grand Cayman in the West Indies, Little Cayman is recommended for its more unspoiled beauty. At ten miles long, the island and areas like Jackson's Point contain numerous coral cliffs and trenches in warm water surroundings. The surrounding islands marine parks, which include the Bloody Bay Wall, are ideal for family trips.
8 – Lighthouse Reef Blue Hole
A diving site in Belize, the Lighthouse Reef Blue Hole is a 450ft deep hole that contains a network of caves, as well as hammerhead sharks and rare plant life. The area was made famous by explorer Jacques-Yves Cousteau, and can be reached in less than an hour from mainland Belize.
9 – Gansbaai
One of the best places to see great white sharks in the world, Gansbaai in South Africa is about 12km out from Cape Town, and is near to Dyer Island and Geyser Rock. The relatively shallow waters allow divers to get close to sharks, while being contained in safety cages.
10 – Sharm el Sheikh
This Egyptian Peninsula resort is defined by its clear and calm Red Sea waters, as well as for its steep reef drop offs, National Parks, and diverse wrecks.
About the author
Sebastian is working alongside Direct Asia – they offer travel, car and motorbike insurance for the whole family. If you're thinking about taking a trip make sure you have the correct level of cover before leaving the country!