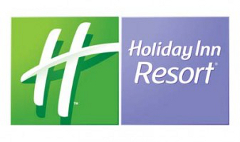 The growing global Holiday Inn Resort® brand portfolio owned by InterContinental Hotels Group got wider today with the new Grand Cayman addition. This new hotel has 117-rooms and a several beachfront amenities.
Located at only 15 minutes from Owen Roberts International Airport, the Holiday Inn Resort Grand Cayman hotel is also very close to some of the local attractions such as StingrayCity and Rum Point. Also, CamanaBay and George Town are accessible via the resort's complimentary shuttle service.
"We are thrilled to bring a Holiday Inn Resort hotel to one of the most popular destinations in the Caribbean," said Gerardo Murray, vice president, Marketing Strategic Services for Mexico, Latin America and Caribbean, IHG. "Adding this property to our Holiday Inn Resort brand portfolio is in alignment with our strategy to bring the brand to easily-accessed leisure destinations."
[adsense]
"This new Holiday Inn Resort property will further bolster the strong presence of the Holiday Inn® Brand Family in the Caribbean while also enhancing the travel experience of our guests," said Heather Balsley, senior vice president, Brand Management, the Americas, IHG. "Grand Cayman is a family-friendly vacation destination and a key location for the Holiday Inn Resort brand." The Holiday Inn Resort network has many properties, and I must say I had a really pleasant stay in May this year at one of their hotels in the Czech Republic.
With this new addition, Holiday Inn Resort is now present in 21 countries in Latin America and the Caribbean.