If you were to say to a Spaniard abroad that you were thinking of a trip to Spain in order to sample the country's best tapas, those little side dishes that accompany a cold caña of beer or something to nibble on while sipping on a glass of tempranillo wine, and you were to ask them where you would find the best in Spain the answer would very much depend on where the person you were asking came from.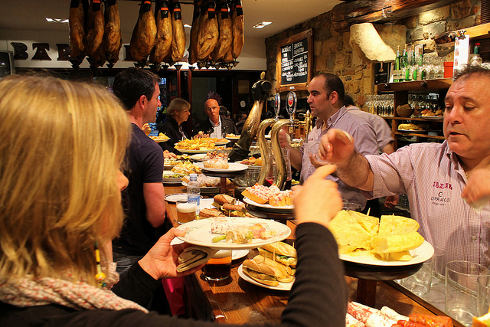 A majority might say the bars of San Sebastian in the Basque country offer the best tapas which are almost as good to look at as they are to eat called pintxos where the bartender counts the number of toothpicks on your plate to determine the price you pay.
If you were to ask a person from Andalucía in southern Spain they would of course tell you that the best tapas would be found in either Granada or Seville while a Madrileños would say that the best of everything could only be found in Madrid.
The city of Logroño on the Ebro River in the wine growing region of La Rioja is a stop on the pilgrims walk to Santiago de Compostella or as it is often referred to as the way of St. James.
[adsense]
La Rioja
La Rioja is one of the principal wine growing regions of Spain and renowned world —wide for producing the finest quality wine in all of Spain that you will find in a bottle of full-bodied Gran Reserva, and it is in the regions capital Logroño that you will find the most amazing tapas bars all crowded into a block of the medieval old town housed in what used to be wine merchants that have long ago moved their businesses to the nearby town of Haro.
With fifty bars specializing in tapas you would think that there would be stiff competition amongst the owners all competing for the same business, yet the bar owners of Logroño came up with an idea to prevent this from happening with each bar producing two or three specialities that are unique to themselves with one specializing in setas (wild mushrooms) while another will be seafood a well and truly gastronomic delight for all the senses.
All of the ingredients for these delicious bites are sourced from the Mercado de San Blas a larder for all the best ingredients available from the region house on two floors just a walk around the market will have you ready to start your tapa tour of the old town.
Hemingway came here for tapas during his time in Spain along with King Juan Carlos who gave Logroño's tapas bar's his royal seal of approval.
If you are taking part in the pilgrimage to Santiago de Compostella which is at its peak during the summer months it is well worth a night in Logroño to sample their wonderful tapas, or if you fancy a weekend away during the winter without another tourist in site Logroño is a fantastic destination for every food lover out there.
Getting to Logroño
Logroño has no direct flights to its airport from outside of Spain but there are daily flights from both Madrid and Barcelona on Iberia.  Logroño is easily reached by rail from Bilbao, but the bus is a quicker option in this case.
Where to stay in Logroño
Being on the Camino there are plenty of budget accommodations available in Logroño along with more upmarket accommodation as well. A perfect hotel from which to sample all the tapas bars is: Hotel Calle Mayor, Marques de San Nicolas, 71, 26001 Logrono, Spain. A 12 room boutique hotel located in the historic part of the city with rooms starting from 105€ per-night. If staying at at hotel sounds too expensive and you are after more budget options you should try this spanish specialist accommodation site.
About the author
This post was written by John Johnson, who is a freelance gardner. John lives in San Sebastian and attends the Saturday market every week.