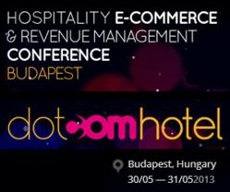 Important names from well known hospitality companies will be keynote speakers at the The first 2013 edition of the dotcomhotel Hospitality E-Commerce & Revenue Management Conference that will take place May 30-31 in Hungary's capital. The experts from TripAdvisor, TrustYou Analytics, BDO Hungary, Fastbooking, Hetras GmbH and other companies present at this important event will address relevant topics to the field such as the future of hotel meta search, today's challenges in search engine optimization, brand reputation marketing in hospitality, mobile applications for hotels, etc.
The conference will be opened by Peter Gal, Consultant BDO Hungary who will present a current market overview in Hungary, with emphasis on Budapest-specific online sales and marketing aspects. Today's challenges in Search Engine Optimization will be analyzed by Christophe Tassi, Managing Director XeniaLab in his presentation, while Maud Larpent, Senior Manager, Partnerships, Tripadvisor will present a dissertation on future trends in hotel meta search.
[adsense]
Brand reputation marketing in hospitality will be the topic of focus for Kristof Roemer, VP of Sales at TrustYo, while Brendan May, Sales & business development CEE, Ideas Revenue Optimization will speak about revenue management.
Other keynote speakers are:
Ulrich Pillau, Managing Director, hetras GmbH, who will explain participants how to benefit of cloud solutions in hospitality;
Rita Jusztina Varga, Business Development Manager, AvailPro with ideas about managing channels;
Darja Gogunova, Head of Consultancy, Hit-Consult presenting various technology implementation processes;
Ivan Bilandžić, Head of Revenue Management, Bluesun Hotels& Resorts with a case study on how revenue management influences company culture;
Paul Ponçon, Vice President, Sales EMEA, Fastbooking talking about booking engines;
Agnieszka Sapa, Director of Contracting, HRS explaining why you do not have to treat OTA's as your enemy;
Gabor Faska, General Manager, Opera Garden Hotel with a case study on mobile applications and smart technologies for hotels;
Jeff Down, Senior Director of Business Development, EMEA, Nor1; who will illustrate how hotels can get to know their guests and sell them more.
dotcomhotel Hospitality Conference will take place at the Continental Hotel Budapest, on Dohány utca 42-44. Conference passes are available for EUR 270.00 at http://dotcomhotel.eu/registration/, and each such pass includes access to both days of the conference, two lunches, coffee breaks, networking evening, conference presentations set and recording of the conference (Day One).