Life is tough and when you're in a relationship it can be even tougher. Finding quality time to spend together can be difficult as work-life balance remains strained. We all work ridiculously long hours and find ourselves spending more time with our bosses than our partners. Therefore, the only time of the year we get to enjoy, stress free time together is when we go on holiday and even organizing that can be difficult!
So, it's more important than ever to go that extra mile and show your loved one how much you care. Turkey is one of the best places in the world to do just that. It's full of stunning scenery, vibrant culture and is just a short plane journey away making it ideal for weekend breaks. Better yet, there are a host of romantic Turkey villas which can enhance your holiday experience and prove to be the home away from home that you always dreamed of. Let's take a look at some of the very best:Â
Romantic Turkey Villas
Simpson Secret — Islamar
This one bedroomed Ottoman style cottage is perfect for any couple looking to snuggle up a roof terrace and watch the sun rise or sun set. The villa has a fully fitted kitchen so if you're a confident chef you might even try surprising your partner with a romantic meal. If cooking up divine cuisine isn't really your style, take a gentle walk into the local village or drive to the town of Kalkan and book a table at one of the many family run restaurants. Let the pressures of everyday life drift away by hopping in the bubbling Jacuzzi and enjoying a glass of wine or two.
Banana Valley Villa, Aegean
Sounds exotic right? It is! Banana Valley is a charming villa tucked away in the sanctuary of the lush Marmaris countryside. Great for couples, the villa holds a spacious and serene feel, great for making the most of those mushy moments! Â The villa has 1 huge bedroom, fully equipped kitchen, Jacuzzi and boasts unrivalled views across the picturesque valleys. This villa was built with tender loving care and is therefore the perfect place to retreat and experience ultimate tranquillity. If you're a couple who enjoy active holidays, there's plenty to do nearby, with the beach just 3 miles away offering watersports including scuba diving, jet-skiing and parasailing.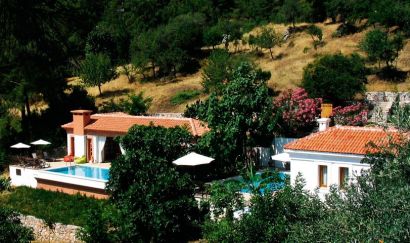 House of Light, Kas
Arguably the most private of the villas included in this list, House of Light is a Mediterranean paradise which equals the private and secluded feel of other Mediterranean retreats including hotels in Corsica and cottages in Italy. You and your partner can truly be at one with the world as this villa is surrounded by a thriving garden which includes avocados, lemons, oranges, olive trees and jasmine. You don't even have to step out on a balcony or terrace to enjoy the views from this villa as they come direct to your living room. From the villa's lounge area you can look out upon the Greek island of Megisiti. As the sun rises and falls you'll be gifted with golden light shows as the reflections bounce off of the glistening blue bays and adorn the villa.
[adsense]
Antiphellos, Kalkan
If you're a couple who want to get out and about and really immerse yourselves in Turkish life, Antiphellos is awaiting your arrival! The harbour of Kalkan, home to a number of divine restaurants and bars which are all within walking distance. The town of Kalkan is full of history and character as it was once an old fishing town. Times have now changed, and Kalkan has been developed into a thriving tourist town with many inviting boutique Turkish shops. The villa itself is not only in the best location possible, it comes  everything you could need to enjoy a fun packed holiday together including a private pool, balcony, air conditioned lounge and maid service!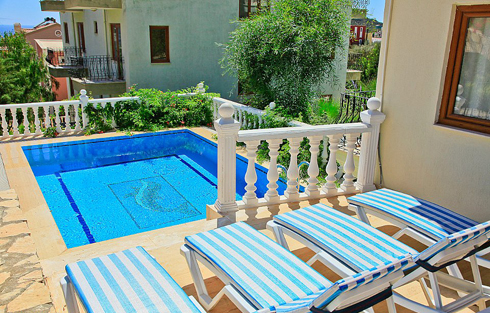 So there we have it, accommodation inspiration! Turkey is an ideal location for a romantic break and as proved, there are many quirky, cute and lavish villas for you to choose from. Everything is better when it's shared, so go and share some great holiday moments together.
About the author
Scott's enthusiasm for travelling is outweighed only by his eagerness to write about it. Quite simply, if Scott did not travel, he would spend most days energetically piecing together words without conviction nor purpose from his ever journeying mind.