Orlando offers plenty of great options for couples – whether you are traveling together for the first time, on your honeymoon or celebrating an anniversary, you can find plenty of romantic things to do. Don't be surprised to find that a lot of the romantic options are in the Walt Disney World resort. Disney is a top destination for honeymooners, and offers more romantic options than any other Orlando location. Universal is more about the thrills and Sea World has lots to offer families and kids, but romance is not high on the list for either location. Here are 5 of the very best romantic experiences that Orlando has to offer.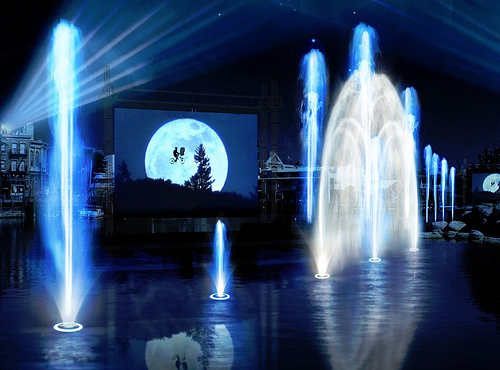 5. Spend a Day at Disney's Grand Floridian Hotel and Spa
The elegant Grand Floridian Hotel and Spa resort is Disney's top destination for weddings and couples' getaways. From the elegantly appointed Victorian lobby (complete with ornate glass elevator and live music) to private cabanas by the pool, you can't top the Grand Floridian for romantic atmosphere.
Start your day with a massage at the full service Grand Floridian Spa, and then wander over to the wedding pavilion and Franck's Wedding Studio – this is a fun destination whether you are planning a wedding or not. Plan a romantic meal at one of several on-site fine dining locations, including Victoria and Albert's, one of Disney's finest restaurants. Finish the day by watching the fireworks at the Magic Kingdom from your balcony, or strolling through the grounds with your partner. No matter how you spend your time, the Grand Floridian is the place to go for a special weekend break.
4. Dine at the California Grill
Perched high atop the Contemporary Resort, the California Grill is a winner for several reasons. The view simply can't be beat – you'll be able to see the Magic Kingdom and its nightly fireworks display as you dine. The food here is some of the best you'll find in Disney World (or anywhere in Orlando, and the service is superb. Some of the waiting staff has been with the Grill since it opened, and the commitment to service makes this location one of the best to celebrate a special occasion or romantic evening of any type.
3. Take a Gaylord Palms Getaway
The Gaylord Palms offers a huge variety of things to do, and is the "other" romantic hotel in Orlando. From fine dining to an on-site chocolatier, the Gaylord Palms has plenty to offer couples, including the area's best spa, the Canyon Ranch Spa. You can schedule an entire spa day for your sweetie here, or indulge in a couples' Massage in an elegant atmosphere.
2. Stroll along Disney's Boardwalk
Find some nostalgic and romantic things to do along Disney's Boardwalk after hours. You can walk along a lighted path from Disney's Hollywood Studios and take in the sights, then try your hand at some hokey but fun carnival games on the boardwalk. You can win a stuffed trinket or two, take in some fun comfort food snacks, and even rent a surrey bicycle at this location.
[adsense]
1. Book Cinderella's Castle Proposal Package
Cinderella's Castle in the Magic Kingdom has become such a popular destination for marriage proposals that Disney has come up with a proposal package to help you pop the question. You'll have to book this in advance, but it is well worth the time, and guaranteed to be a memorable experience for you both. The plan includes a chocolate slipper dessert, complete with glass slipper to present your ring, champagne and more. You'll need to contact Disney's special events department to get started, and Cinderella's Castle needs about a week to pull it together for you.
Even if you don't have a proposal in mind, Cinderella's Royal Table remains one of the most romantic dining spots at Walt Disney World, provided you book a later evening meal. This location is very child-friendly and can be packed with families during the day and early evening hours.
Considerations
No matter what you choose, make reservations in advance if a restaurant, spa or hotel stay is part of your plan. The locations listed here are some of the most popular spots in Orlando, and booking your room, dining or spa treatment in advance is the only way to be sure you can secure your spot – particularly if the romantic trip you have in mind is for Valentine's Day or another busy holiday.
Photo credits
Magic Kingdom fireworks, California Grill – Walt Disney World media site
Bull and Bear- Gaylord Palms media site
Universal Orlando Resort -Â Wes Bryant on Flickr
About the author
Samantha McNesby writes theme park reviews, news and guides for Theme Park Tourist, which covers parks and attractions all over the world.