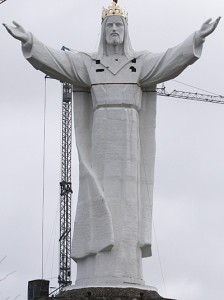 Poland has managed to draw the attention of Christian pilgrims and tourists and direct them to the western town of Swiebodzin on Sunday by unveiling what is now thought to be the world's tallest statue of Jesus. 15,000 people came to witness this event, while Polish television stations had live broadcasts of the large groups holding religious banners and placard proclaiming "Christ the Kind of Universe."
"This monument is a visible sign of faith in Christ," said Bishop Stefan Regmunt who blessed the statue at a ceremony presided over by Cardinal Henryk Gulbinowicz.
The immense statue of Jesus was the idea of a retired local Roman Catholic priest Sylwester Zawadzki.
The entire project was paid through donations by parishioners and other advocates of the project. It is 33 meters high, a symbol of Jesus' earthly life of 33 years. The statue is 3 meters taller than the Christ the Redeemer that watches over  Brazil's Rio de Janeiro.
To add precious metals to the Christian high value, the statue features a three-meter gold crown, the total weight of the statue being of 440 tonnes. In the symbolic spirit of the monument, the 3 meter crown stands for Jesus' ministry on earth and also brings the statue to a 36-meter total height.
"Christ the King will welcome visitors to Catholic Poland," the 78-year-old Father Zawadzki has repeatedly said of his creation which stands on an artificial 16-meter mound. "The monument has been erected to fulfill a religious mission, not as an attraction."
Yet the attraction is most powerful, drawing tourists from Germany and Poland as well, all standing in line to take souvenir photos with the statue of Jesus.