If you like the great outdoors and straying from the familiar and overly-beaten path, nothing spells thrilling and secluded better than a secret garden. Charming, mysterious, and beautiful in the most exquisite ways, these secret treasures are scattered across the United Kingdom. All you have to do is discover them! Luckily, you don't have to do that on your own, as we've got a list of top secret gardens ready for you. You can start with the first two during your exploration of London, then move further from the Capital to discover more flavors.
Postman's Park
St Paul's Cathedral might be one of the Capital's top attraction, but the Postman's Park charm might make for a far better experience. Just around the corner from the famous cathedral, this hidden garden (a tad small to be called a park) used to be the preferred meeting place for those employed by the Old General Post Office. If you find it, make sure you stop by the Victorian memorial houses.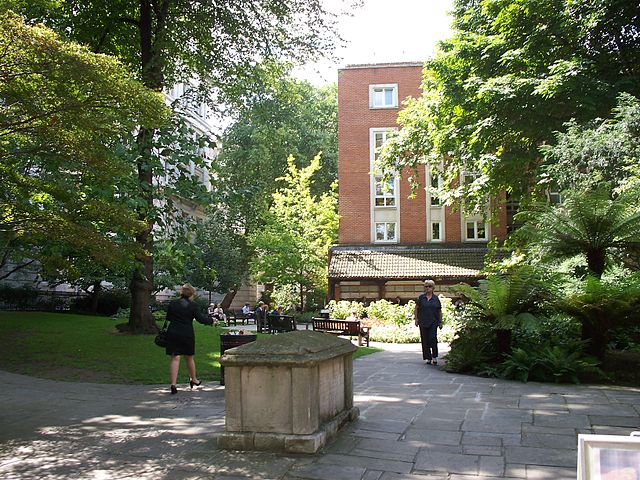 Photo by Iridescent via Wikimedia
Fenton House
If you're looking for a quiet and charming little garden, London's Fenton House is your choice. Close to the far more popular (and crowded) Hampstead Heath, this walled garden decorated with lawns, and orchard, and a vegetable garden is the secret treasure of this National-Trust owned 17th century merchant house. A bit of history will go very well with your outdoor picnic!
Once you've got a taste of London's secret gardens, it's time to head out. If you like road trips, then we recommend choosing cheap car rentals in UK first. Make sure you stick to the right side of the road, and let's step on it!
Spetchley Park
You will find this precious gem just outside Worchester. Spetchley Park will make you feel like you've stepped right into a fairy tale. The gardens of this historic location were cared for by the Berkley family for over four centuries. The design of renowned Edwardian gardener, Ellen Willmott (who just happened to be Rose Berkley's sister), is a blend of a tea room, an even more secluded Fountain Garden, specimen trees, and carefully planned borders.
Dalemain
Travel back to the 14th century with a trip to Pernrith in Cumbria. Here you will find Dalemain, a Georgian manor surrounded by the colorful and aromatic gardens that display chamomile, tobacco plants, and even a tall Greek fir. Step through the Tudor-style garden, on to the Rose Walk, and make your way about the apple orchard, and visit the gothic looking collection of tree stumps and roots. These are carefully spread to give you the aptly named Stumpery.
Cerney House
Nothing will delight a true romantic quite like Cerney House's secret gardens. Make your way to Gloucestershire, somewhere between Cirencester and Chedworth, to explore a walled garden surrounded by woods. The bothy and tea room are a must during your visit, but make sure you enjoy the climbing roses and buy yourself some of the local jams and cheeses. You won't be disappointed!
We do hope you've enjoyed our collection of secret gardens. Which such secluded places from the UK would you recommend?