Wherever you see the flag of New Zealand flying you'll see a depiction of the Southern Cross, or the constellation Crux as it is officially referred to. Look up from anywhere in New Zealand and you'll see this magnificent constellation in the night sky, especially if you're at one of the myriad locations where darkness reigns. However, these aren't the only bright points you'll see during your visit to the 'land of the long white cloud'.
New Zealand shines bright
As a holiday destination for hundreds of thousands of people every year, New Zealand burns like a beacon on a dark night. Primeval forests, ancient mountain ranges, pristine crystal clear lakes and glaciers hundreds if not thousands of years old lures visitors from all over the globe. Companies such as motorhome hire New Zealand firm 'Wilderness' facilitates their seeing every glorious vista in this ancient land.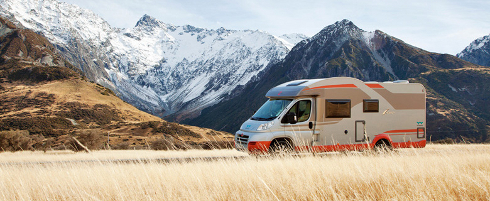 The roads system in New Zealand is excellent. Given the fact the two main islands aren't all that wide from coast to coast, the hinterland is easily accessible from either east or west. The high snow capped mountains of the southern island offer breathtaking vistas as seen in the image. You can wake up to something like this every day of your holiday if you so wish. You may just want to park up overlooking the sea, close to a pristine lake or on one of the many camper parks dotted across the entire length and breadth of New Zealand.
[adsense]
At the time of writing it is almost midsummer in New Zealand. The weather in the North Island is mainly sub tropical and in the summer the beaches and clear blue waters beckon sun lovers and water sports enthusiasts in almost equal numbers. By contrast the South island is largely temperate with winter ski resorts doing a brisk trade.
Both main islands have a mountain range running down the center from north to south. Consequently much of the populated areas are within touching distance of the coasts. The weather even in winter is pretty mild. Bay of Plenty, Hawke's Bay and the area around Nelson/Marlborough has (official figures) over 2,300 hours of sunshine a year.
Fresh air and almost zero airborne pollution
With such a small population little airborne pollution is generated. The high mountains and the low lying plains together create strong air currents which act as an 'air conditioning' system for the islands. If you want fresh air, breathtaking scenery and some of the best natural vistas in the world, New Zealand has more than its fair share.
And of course, if you're a star gazer and love nothing more than looking up into the night sky it is a veritable paradise. The lack of airborne pollution and light pollution means you won't miss the Southern Cross or any of the other wonders of the night sky, all of which are crystal clear in the night sky.
I cannot elaborate without more available space. You will either have to take my word for it or book tickets on the next available flight down under. New Zealand is an amazing place; if you're planning to explore, companies such as motorhome hire New Zealand firm 'Wilderness' have it all wrapped up.
Graham Green is a freelance writer and blogger. When he visited New Zealand back in the early seventies, companies such as motorhome hire New Zealand firm 'Wilderness' just didn't exist. Oh for the chance to visit again.