If you are looking for a holiday that it out of the ordinary, New York offers many opportunities to participate in the strange and bizarre.
Are you bored of the usual travel destinations and tourist activities and looking to try something a little different? After so many museums, beaches and theme parks, the intrepid traveller starts to look for experiences that are beyond the ordinary and will create unique and lasting travel memories. New York City is a great place to think outside the cliché tourist box and find one-of-a-kind weird things to do.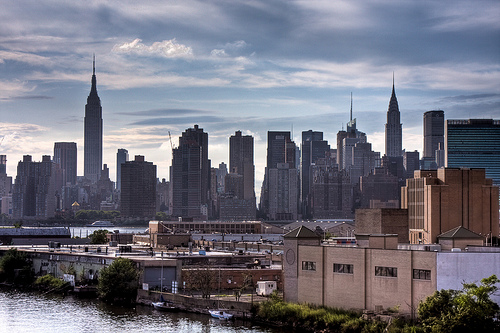 Photo source
Massive metropolis New York offers many strange and wonderful travel experiences that will amuse and delight creative and imaginative travellers. Here are some ideas to get you started on your adventures through the weird side of New York City.
Have Dinner With Ninjas
You can time travel back to 18th-century Japan at "Ninja New York", a themed restaurant that faithfully recreates the atmosphere of a feudal castle. Visitors must navigate the complicated maze of rooms before being brought delicious Japanese dishes by nimble Ninja servers carrying swords.
Hang out with NYC's Ghosts
If you are brave and not afraid of things that go bump in the night, why not see if you can catch a glimpse of some of the ghostly residents of the city? New York City is the most haunted city in America, according to the Ghosts of New York tour company. They offer guided tours around the city that frighten and intrigue visitors with true stories of sightings of apparitions and supernatural phenomena. The tours are 90 minutes long, and there are many to choose from in all of the different neighbourhoods of the city.
[adsense]
Take Trapeze Lessons
If you have always fantasized about running away to the circus, now is your chance! The Trapeze School of New York offers classes for all fitness levels where visitors can learn to use the flying trapeze, bungee trapeze and trampoline.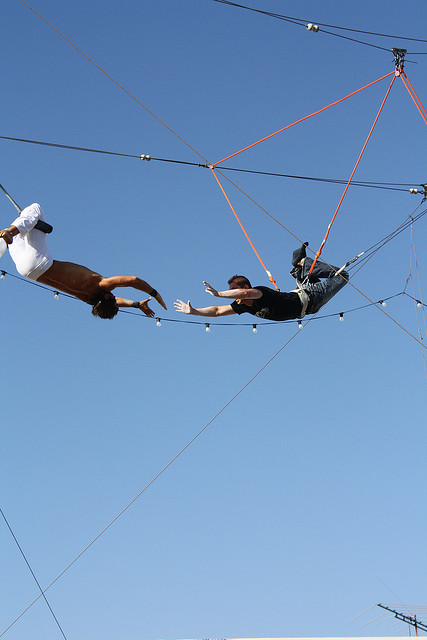 Photo source
Atlantic Avenue Tunnel Tour
Head beneath the city and explore the world's oldest subway tunnel! In this creepy underground tour you can hear about dangerous street gangs, pirates and even a Lincoln assassination conspiracy theory. Be sure to wear comfortable shoes and bring your own light, as it can get very dark down in the tunnel!
These are just a few of the strange and wonderful activities that New York City has to offer. Keep your eyes and ears open as you explore this huge and multi-layered city and you are sure to find more! Have fun enjoying the quirky and strange side of New York City.
Getting There
New York City is served by three large airports that are connected with flights from almost every corner of the globe. They are John F. Kennedy International Airport, Newark Liberty International Airport for international flights and LaGuardia Airport for domestic flights.
About the author
Richard Olsen is a writer at timetowander.com and has worked with Etihad Airways, who operate regular flights to New York from Abu Dhabi