Car lovers everywhere, rejoice. Now you can rent slick cars and have your fun. The famous general use airport car rental brand announced today the launch of Hertz Dream Cars, a new line with a fleet of luxury cars from various manufacturers. Customers choosing these new cars will also benefit from personalized service, as the company aims to offer a VIP rental experience.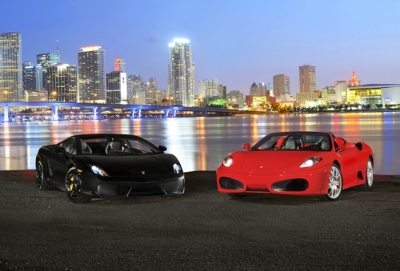 To understand just what type of cars are included in this new line, here's a list provided by Hertz: Aston Martin V8 Vantage, Audi R8, Bentley Continental GT, Cadillac CTS-V, Ferrari (California, F430), Lamborghini Gallardo, Land Rover Range Rover Sport, Mercedes-Benz AMG (SLS, C63, E63), Mercedes-Benz SL550, S550 and G550, Porsche (911, Cayenne, Boxster, Panamera), SRT Viper, Tesla Model S. 
"The launch of Hertz Dream Cars gives consumers the opportunity to experience luxury travel at its finest," commented Mark P. Frissora, Hertz Chairman and CEO.  "The experience starts with a choice at select rental locations of some of the finest vehicles built on the planet. Additionally, the Dream Cars experience extends from special reservation channels to being greeted by a Hertz representative at the airport terminal, to a rental vehicle in pristine condition. We ensure the travel experience with a Hertz Dream Car will be unforgettable."
In the present time, Hertz Dream Cars is available in 35 locations, and the company says it plans to expand the availability for consumers around the country. Make sure to check availability beforehand, so that you don't get disappointed!