Fans of Harry Potter pay attention: a new surprise is getting ready for you: the world's first centrally themed, multi-park experience expands The Wizarding World of Harry Potter across both Universal Orlando theme parks. Scheduled to be open in 2014, The Wizarding World of Harry Potter – Diagon Alley aims to provide fans of the enchanting magic world with new and great experiences and to bring to live some of the places in and around London in the Harry Potter books and films.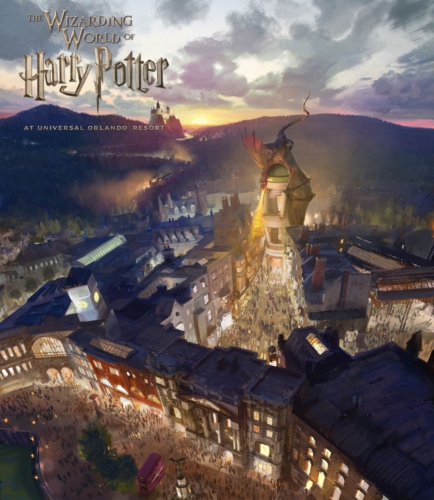 Located next to Universal's Islands of Adventure theme park, within the Universal Studios Florida theme park, Diagon Alley will offer visitors the possibility to travel between 'London' and Hogsmeade aboard the Hogwarts Express. All to make it an experience as close as possible to that from the movies and books.
Shops, a restaurant as well as other attractions will also be included in this new themed park – and information will be released in time.
[adsense]
"I'm so pleased that The Wizarding World of Harry Potter has proved so popular to date, and I'm sure that the attention to detail in creating the new Diagon Alley area will make this an even better experience," said J.K. Rowling .

"We are continuing the journey and adding an entirely new level of adventure," said Tom Williams , Chairman of Universal Parks & Resorts. "And we are bringing the same drive, commitment, enthusiasm and innovation to this project as we did to the first."

"We are thrilled to offer the legions of fans the opportunity to embark on this new journey and experience Diagon Alley as it was brought to life in the books and films," said Brad Globe, president, Warner Bros. Consumer Products.

"Our vision is to create two amazing theme park experiences that combine into one, complete, magical journey," said Alice Norsworthy , executive vice president, marketing and sales for Universal Orlando Resort.
Harry Potter – books and movies – is indeed what we might call a phenomenon. Praised by specialists as well as by general public, generating huge sales and views, books and movies transport the reader/viewer into a magical and wonderful world, one that many would like to be a part of in reality.
With the book series coming to an end, the next step is to seize the momentum and creating a dedicated themed park with interesting attractions and an experience aimed at making visitors forget the real world for a few hours is a good idea – both for visitors, as well as from a business point of view.