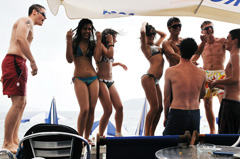 FamilyGetaway.com who specializes in deluxe family travel and family hotel packages, has just released the findings of a recent customer survey analyzing travel patterns such as frequency of travel, favorite destinations, and choice of travel companion. The 2,000 and some respondents highlighted a new definition for the "family of four" concept – such a group no longer refers to the traditional family of two adults with two young children. What they mean by family travel involves four or more adults, parents with adult children, other grown up relatives or close circles of friends who call themselves "family".
How did FamilyGetaway reach this conclusion? 82% of respondents said they travel with immediate family, but more than half said their children were over the age of 18. Only 15% said kid-friendly activities and destinations are something they are looking for in family trips. Yet while the family they travel with alters, the main reason to make the trip is still visiting relatives – 45% of respondents stated their reason for traveling this year was visiting family or attending a family event.
The survey also showed budget is a top criterion when planning "family" travel, as well as value-added incentives. While changing the traditional components of "family travel", people are also saving money in the process. 79% of respondents said their main challenge in traveling was keeping the cost down. But this is somewhat rendered easier by dividing the costs by four (as two members of the travel unit no longer need to pay for their children's trip as well).
The savings resulting from a shift in how travel families are defined was one of the reasons many of the survey respondents (48%) traveled the same amount this year as they did in 2009, in spite of economic difficulties.
The respondents also stated which were their top choices of vacation when traveling with families – pool and beach-based holidays.